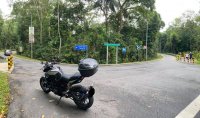 The Straits Times have launched a dedicated page on their website for motorists love driving and riding but due to the Circuit Breaker restrictions and borders being generally closed, to still be able to enjoy the perks of riding in tiny Singapore. You can visit the Straits Times special page here.

Riders even more so, are fustrated with the lock down due to our passion for overlanding rides, experience the sights and colours of our neighbours up north in Malaysia and Thailand and in recent weeks, we've seen more and more riders taking to social media to share their "overlanding" trips within Singapore itself.
Tun Dr Mahathir Mohamad famously said this to Singapore drivers in January 2003 when he was Malaysian Prime Minister: "If you like, drive on our roads, which are quite long, in Ferraris – they have Ferraris, you know – because in Singapore, you can't drive very far."
While Singapore's expressways may not be as long as Malaysia's, there is more than enough asphalt here to keep both keen and casual drivers happy.
To share with you just an example of what some local bikers have done, we have a post from Mr Ridhwan Salleh on his trip around Singapore that took him to many local areas which we otherwise might not visit during our daily lives. His mighty Yamaha MT-09 is not just the perfect touring machine for going up north, but even for touring in Singapore as well!

From Ridhwan himself:
Quote

 

It was a great experience and so much fun. I get to go to places which I've never been before and one of the best experiences was, I got to see wild monkeys chilling on the Grand Prix Circuit. Maa Sha Allah. Overall, I rode in rain/dry weather about 6+hrs.

Distance covered : 211km. 

Still a noob rider. 

Syukur Alhamdullilah and Ty The Great Singapore Drive

1 ) Top Up fuel
2 ) Tampines Link UFOs
3 ) Changi Beach Point (Added by me)
4 ) Tanah Merah Coastal Drive
5 ) Guraeme Restaurant & Coastal Wind
6 ) Lau Pa Sat (Added by me)
7 ) Mount Faber Carpark B
8 ) Mount Faber View
9 ) Seah Im Carpark
10 ) 99 Bends
11 ) Tuas Mega Port
12 ) Tuas Lamp Post No 1
13 ) 40 Tiang
14 ) Sarimbun Beach
15 ) Bollywood Veggies
16 ) Sungei Buloh Wetland Reserve (Added by me)
17 ) Kranji Dam
18 ) Rifle Road Range
19 ) Grand Prix Circuit (Road closure 730pm to 6am)
20 ) Pano of Grand Prix Circuit
21 ) Casuarina Tree
22 ) Soek Seng 1954 Bicycle Cafe

I didnt take food/toilet break, non smoker but I did refuel once cause dun wanna experience again no fuel at expressway

Keep Calm & Ride Safe everyone

Happy Holidays

 
Check out more of his pictures below and do share with us your overlanding journey in our forums.