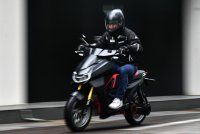 The latest news to hit our shores in the past days would definitely be the fact that we are going to have a new locally manufactured motorcycle that is made in Singapore - and it's electric only to boot! Presenting.. The Scorpio X!
Mr Melvin Goh - of Eurosports Auto (who is also the local distributor and agent for Lamborghini) has embarked on his next journey, and unlike its petrol-powered high performance cars, it is looking towards EV and the future, producing EV 2-wheel scooters for our local roads.

Scorpio Electric (which the company is called) recently raised US$6.3M in its latest fund-raising round to fund this venture and it's looking towards demand for electrification and greener modes of transportation to justify its business model.
Mr Goh also mentioned that the price of the scooter when launched in 2022, is expected to cost between S$25,000 and S$30,000 including COE. Power-wise, it is comparable to a Class 2B scooter and the motorcycle will have a range of around 200km, which we reckon is sufficient for Singapore's roads.
While that might seem like a high price to pay for a Class 2B scooter, Mr Goh did mention that they are targeting the premium market and will not seek to compete with bargain-basement priced Japanese scooters. Another point to consider will be the charging infrastructure available in Singapore and this would make or break their forecasted demand numbers.

While electric cars in Singapore are slowly taking off as owners are able to install such charging stations within their home compound if they are living in a landed property, buyers of scooters are usually staying in public housing and thus would not have access to the same infrastructure available to them.
With 2 more years to go before the Scorpio X will be available to the public, we're hoping this is enough time for them to sort out the teething issues present. We are always for a cleaner environment, greener technology, but are also realistic to the fact that market forces of demand, supply, pricing, and viability will take precedence over saving the earth, especially for the end users.

What do you think? Will this business and motorcycle be a hit or miss here in Singapore and around the region? A local manufacturer also tried to produce motorcycles in Singapore many years ago but folded due to the high cost. Will Mr Goh be able to do things differently? We'll find out soon enough.
Full Straits Time video here:
Scorpio Electric website here: https://scorpioelectric.com/
Eurosports Global website here: https://www.eurosportsglobal.com/