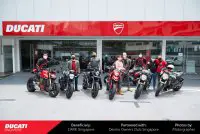 In the spirit of giving, the guys at Ducati Singapore spent a fulfilling Saturday, on the 20th of February 2021, with their fellow Ducatisti to share the joy of this Lunar New Year festivity to children from under-privileged families.

In partnership with Desmo Owners Club Singapore, CARE Singapore and @Motorgrapher, Ducati owners contributed and personally distributed over a hundred welfare packs to the beneficiaries and their families.
Thank you to all Ducatisti for your generous giving, and for making this happen with your little act of kindness that spreads a lot more joy! And kudos to Ducati Singapore for putting the event together!
P.S. All events were carried out with safe distancing measures in place.
Links:
Ducati Singapore: https://www.facebook.com/DucatiSG
Desmo Owners Club Singapore: https://www.facebook.com/desmoownersclub.sg/
CARE Singapore: https://www.facebook.com/CARE.Singapore/
Motorgrapher: https://www.facebook.com/motorgraphersg/