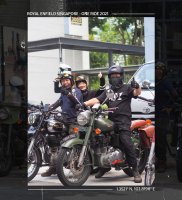 Royal Enfield Singapore recently conducted the ONE RIDE 2021 event here in Singapore specially for the Royal Enfield owners club. The ONE RIDE event is actually a global initiative by Royal Enfield to celebrating the spirit of pure motorcycling & camaraderie among Royal Enfield riders!
Just sharing some snippets from the event. Be sure to check them out if you'd like to join in for future rides and get yourself a Royal Enfield, great bunch of guys!
All safe distancing measures and COVID related compliance were abided to during the event.





1