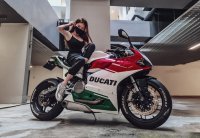 Below are excerpts from Vaune's blog, you can check out her site here: https://vaunephan.blogspot.com/
Road trips on a bike has been a yearly affair for me. Yearly in the sense, I tend to go on multiple touring trips every year if possible


Be it hopping on my own bike and heading up North, through the causeway and into Malaysia/Thailand, or a "Fly & Ride" trip where I'd jump on a plane and travel to the destination of my choice before renting a bike there and exploring the country on two wheels. 

Well, I'm extremely grateful that the last motorcycling road trip I did (that was completely epic as always) was just early last year in India where we rode into the Himalayas and even experienced some snow, but... LAST YEAR FEELS LIKE 1,000 YEARS AGO!!! 


Thanks (but no thanks) to the relentless pandemic, all these roads trips have came to complete hiatus since last March. We weren't even allowed to step out of our house due to the circuit breaker measures unless for medical emergencies, groceries or takeaway foods only. 

It was a really dark and gloomy year. 

Fast forward into 2021, travel bans are still on but hey, at least we can head out for a ride in a group of 5! Or 2.. or 8... depending on the different types of measures that kick in at different times of the year lah uh. 
If you'd like to head out for a relaxing sunset ride before catching up with your mates over dinner together, check out the itinerary below!
This short and sweet 45KM road trip focuses on the West side of Singapore, exactly in the direction where the sun sets so if the weather is clear, you can be sure to enjoy a scenic ride through the whole route, with the skies painted in orange, blue or purple hues. 
Doesn't matter what bike you ride, as long as it's a two wheelers, I bet ya it'll be enjoyable. The route consists of mainly tarmac, but there's a tiny section that takes you off road but not to worry, it's nothing your bike can't handle. Just throttle through only

Meeting Point - Seah Imm Carpark 
Here's the meeting point because the carpark is huge and has plenty of space to cater to any group size meeting up. Anyway, with the Covid-19 measures, how big can the group gathering be nowadays right.. Haha. 
Do take note though that there seems to be two Seah Imm Carparks, be sure to head to the one that's nearest to the Seah Imm bunker. 
DirectAsia Insurance
 offers their motorcycle policy holders 24 hour vehicle breakdown assistance. Just give them a call and they'll arrange for a tow service while you see who'd allow you to ride pillion to continue the road trip LOL.
In fact, if your fellow biker friends is insured with 
DirectAsia Insurance's Any Rider optional benefit
, you guys may take turns to ride the bike!

Credit to nparks
Seah Imm Carpark to 99 Bends
Once everyone is all gathered, it's time to dive right into the fun around the corners! Well, for bike and car enthusiasts, the fun is usually AT the corners right? 
Known to be one of Singapore's most dangerous roads, the twisties and sharp corners through South Buona Vista road aka 99 Bends will have you leaning from right to left. It is a two-way traffic so do watch out for vehicles traveling in the opposite direction and while you're having fun, please ride safely and at your own pace! 
It is quite an accident-prone area and if unforeseen circumstances happen, it is beneficial to be well protected with a comprehensive insurance like what DirectAsia Insurance offers that can help cover you for Personal Accident and Medical Expenses so you can focus on recovery without worrying about the bills.
But let's hope none of that happens yeah.

Credits to flickr
99 Bends to MacDonald's West Coast Park
Next, continue on through Prince George's Park and head on over to a drive-thru at MacDonald's West Coast Park to grab a drink or even some light snacks to soothe all that adrenalin that's still pumping through your veins from whizzing through the 99 bends earlier on. It's important to hydrate wherever you are, and even more so when riding. 
Have your phone or credit card ready for a safe and contactless payment, collect your order next and enjoy it outdoors with green foliage all around in the park! (Subject to prevailing Covid-19 measures at the point in time).
MacDonald's West Coast Park to The Hives NTU
Continue on through West Coast Highway before merging on to Ayer Rajah Expressway (AYE) and take exit 18 for Pioneer Road North towards Benoi Sector. 

Credits to timeout
With some energy refilled during a short break at MacDonald's, how about checking out some cool architecture next, like the "Dim Sum Basket Building" located at Nanyang Technological University of Singapore.

Credits to ntusg
Officially known as The Hives, this SGD $45 million building was designed by British Designer Thomas Heatherwick and it was completed 6 years ago, in 2015. It consists of 12 eight-storey towers and houses 56 corner-less classrooms. 
Definitely an instagram-worthy spot you don't wanna miss with your bike!
The Hives NTU to 40 Lamp Posts
Lim Chu Kang road is home to where the cemeteries are, and it is also where Tengah Air Base is located at.

Credits to straitstimes
Because the road is so straight, the Republic of Singapore Air Force have actually used it a couple of times as a temporary runway for their fighter jets to take off and land. Having said that, it is actually more famously used for illegal motorcycle or car drag races in the past, like these two silly drivers who were being charged for illegal racing and speeding of up to 178KM/H. 
There are speed cameras installed there now to deter illegal racers so please don't attempt to be a straight road hero here. Just enjoy the scenic ride through all 40 lamp posts as the sun sets beautifully in front of you


Credits to timeout
40 Lamp Posts to Sarimbun Beach (Jalan Bahtera)
Talk about taking the road less travelled, here's where tarmac ends and onto a little bit of off road we go! If you Google the history of this location, you'll learn that it was where the Japanese troops first invaded Singapore, marking the start of World War II here in February 1942. 
The terrain here consists of many potholes and does not have any street lamps so it's best to avoid arriving here at night as it can get really dark. 
Instead, I'd say try to reach here before 7:15PM, turn off your engines for awhile and enjoy a really quiet and tranquil sunset by the beach. In terms of crowd, there's usually practically no one here so you can have the views all to yourselves!

Credits to tripadvisor
Sarimbun Beach to Neo Tiew Crescent 
Time flies when you're having a good time and guess what? It's dinner time! Y'all must be all hungry by now, so head on over to a bike / car friendly parking restaurant like Garden Asia Bistro. 

Credits to timeout
What I personally like about this place is that it has free parking, ample space to accommodate group size of up to 20 - 30 bikers, has an idyllic setting to just chill out and relax after the whole road trip. Plus, food and drinks here are reasonably priced and the quality is not bad!
A great way to wind down the evening, catch up with friends and perhaps plans on where the first road trip would be for you once borders reopen!

Whether you're on a mini road trip of your own or just heading out on your bike, stay well protected and be properly insured! 
DirectAsia Insurance
 not only have one of the most competitive rates in town especially with NCD30, but after being insured by them for the last 7 years, I know they always have us bikers interest at heart
so do check them out.
Don't forget to quote "Vaunephan5" to enjoy even more savings off your motorcycle policy!

Together, we can ride out this pandemic safe and sound.
1