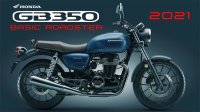 Honda is all set to launch the made-in-India Honda CB350 motorcycle in Japan and other Asian markets as the Honda GB350 Basic Roadster.
Honda has managed to surprise enthusiasts by launching a India-manufactured premium retro-styled motorcycle late last year as most of its core line of motorcycles are manufactured in Japan. The new Honda GB350 has found lots of takers despite limited availability thanks to its retro classic looks, a crispy exhaust thump and more importantly a powerful performance. Could riders actually be looking towards more no-frills motorcycles that are at the lower end of the pricing spectrum?

Now, the Japanese manufacturer is planning to launch this bike in other markets around Asia very soon. According to a Japanese magazine, Honda will launch the classic roadster in Japan first and rechristened it as GB350. Made in India – Exported to Japan, Honda has already showcased the motorcycle in Japan and we expect it to be making its rounds to other Asia markets in the near future.
The GB350 when launched, is already BS6 compliant which is equivalent to Euro 5 emission norms. This is good news as all new motorcycles coming into Singapore would need to adhere to Euro 5 emissions or risk not being able to be on the roads after a few years (remember the NEA debacle?). Hence, Honda wouldn't have to invest further to upgrade the engine's emission standards. It is also equipped with ABS as standard in its based model spec, which is very helpful as this is a powerful Class 2A bike that would need up-to-par stopping power. It is highly likely that the Japan-spec GB350 will be the model that is exported overseas.

While earlier reports indicated that in Japan, the GB350 will cost around JPY 550,000 to JPY 600,000, the latest reports suggest that it would cost around JPY 499,000 instead, which comes in at a lower price than initially expected. Exact prices will be announced soon, once it is launched, and the price is Singapore is dependent on many factors such as COE and road taxes so we'll just have to wait for the official word from Boon Siew Honda.

The bike is launched as a challenge to Royal Enfield's 350cc retro segment which currently holds a significant market share is various other countries and could also be why Honda has launched this GB350 as a direct competitor. Also similar to the Royal Enfield, the GB350 comes equipped sparingly and does not even have a digital dash like most motorcycles from 2021 but instead just has a simple analog gauge.

Initial sales numbers of the GB350 are promising, and it has the potential to disrupt Royal Enfield's monopoly. Coming to its powertrain, it is powered by a 348cc single-cylinder air-cooled engine which generates 21 bhp at 5500 rpm and a peak torque of 30 Nm at 3000 rpm. Hardware equipped will also remain similar to the Japanese model which consists of telescopic forks at front and dual shock absorbers at rear. Anchorage duties will be handled by disc brakes on both ends.
What do you think of the Honda GB350? Do you think there is a market within Singapore for a no-frills retro roadster motorcycle? Let us know in the comments section below!
P.S. Boon Siew please bring this Honda GB350 into Singapore!
Honda Japan Promotional Video on the Honda GB350: