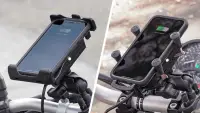 Vibrations from a motorcycle could damage the image balancing software in an iPhone as Apple warns bikers not to fix the device to motorcycles. This new advisory came as there has been an increasing number of delivery riders on the roads from services such as Grab, FoodPanda, Deliveroo, Air Asia, and more! During this pandemic, as more people work from home, this has cause there to be an exponential rise in the demand for home delivery services and with that, delivery riders. Especially if you are displaced from your current job, joining one of the various platforms can be a good way to earn a living.

The low cost to entry, also means that with just a simple mode of transport (such as a motorcycle) and a handphone which most people have anyway, you are able to get started almost right away! We've also seen in recent news report of how some delivery riders are making very decent income even after subtracting their cost for petrol, insurance, depreciation and the likes. However, a new hidden cost has been becoming more apparent and that is the cost of replacing your mobile phone when it breaks due to prolong use. We're not talking about the phone breaking due to old age or wear and tear, but more specifically, because of how phones are designed nowadays, there are thousands of moving parts within them and being attached via a handphone holder to your motorcycle, riding upwards of 100km everyday on the bumps and potholes of our roads, the minute parts and motors within will fail eventually.

This is what has triggered Apple to issue an advisory warning to its owners just recently, to avoid prolong use while attached to a motorcycle. This does not just apply to Apple phones however, as we've seen and heard reports from many other delivery riders that phones from Xiaomi, Samsung, and other brands are also facing the same issue.
So, if you are a delivery rider, and to minimise your cost of running your business, we've come up with 3 simple tips to help you save some money and ensure that your latest new shiny flagship device last for a long time, even while you spend hours tolling the roads doing your delivery services!
1) Get a soft-material phone case for your phone
There are 3 key points in which the vibrations from the roads are passed onto your mobile device. The first being the roads onto your motorcycle via the tyres. The second become from the motorcycle to the handphone holder, and finally, from the handphone holder to the handphone.

We can try to minimise the impact of these vibrations by placing the phone in a soft-shell, TPU or rubber casing to absorb some of these vibrations to ensure that your phone is not subjected to every single bump nook and cranny from the roads! We would also suggest avoiding hard plastic or acrylic cases, and to try and stick with something that is softer to reduce the harshness that is transferred.
Another plus point of these softer rubber cases are that they are usually cheaper to purchase as well! There you go! Saving you time AND money!
2) Allowing more free play on your phone mount
We all like a good solid mount as that is usually a sign that the product is well made, correct? Well yes and no. While in a car or other vehicles, having a solid mount would allow us to better visualise what is on the screen and gives us a better line of sight, allowing for no free play on the phone mount would actually cause more NVH (that's noise, vibration and harshness) to be transferred from the roads onto our phone.

The difficult part here is actually finding a nice balance between allowing for some motion on the phone mount, and making sure that the mount is not swinging all over the place, rendering it useless as you are not able to see anything that is on the screen clearly! Using the very common X-Grip mount for example - What you could do would be to tighten the mount and clamp just to the point that it doesn't wiggle and shake about, but at the same time, not to over-tighten it to the point whereby there is no free play at all.
This simple tip and trick might cause the mount to go loose over some time, but it definitely is a cheaper option as compared to replacing that brand spanking new iPhone 13 Pro Max that you have just bought for your birthday!
3) Getting a beater phone for your delivery jobs
Last but not least, if point 1 and 2 weren't your cup of tea, the next best (but no cheapest option) would be to buy a beater phone to use for your Deliveroo and FoodPanda jobs. With the advancement of technology, older phones have become so cheap to a point that you'd find a dime and dozen of them on classified platforms like Carousell going for $80 or less.

Take this cost as part of running your own 'business' and if it breaks, you can simply replace it for not a lot of money! The only thing to take note of is that certain apps require certain updates to run so when buying a used Android or Apple phone, make sure that it is able to support the delivery platform that you are going to use!

With that, we hope that these simple 'hacks' will help you save some money in the longer term and be sure to share this with your fellow delivery riders! Stay safe on the roads and don't stop hustling!