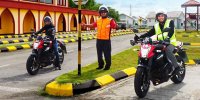 Join us on the SingaporeBikes.com Official Telegram Group to get the latest news and promotions straight to your phone!

PDRM WANTS TO INTRODUCE A NEW MOTORCYCLE LICENSE CATEGORY THAT WOULD LIMIT YOUTHS TO RIDE ONLY LOW POWERED MOTORCYCLES BY 2025.
New year, a new chapter. The Road Transport Department (JPJ) is currently studying a proposal made by PDRM ( Royal Malaysia Police) to introduce a new motorcycle license category for youths aged 16 to 20.

By 2025, the new "B3" motorcycle license category would allow future youths to ride only electric bikes or low-powered, small-capacity engine motorcycles that are 70cc and below.
Director-general Datuk Zailani Hashim said that the matter would be discussed in detail with the Malaysian Institute of Road Safety Research (MIROS) and the Public Works Department before any decision is made.
"The proposal was made due to the increase in the number of accidents and deaths involving high-powered motorcycles involving youths, aged between 16 and 20 years," he said.

So how can this affect motorcycle manufacturers in Malaysia? If the idea proposed by PDRM does get approved, motorcycle manufacturers might face a drastic drop in sales in the upcoming years, especially when it comes to kapcai sales. However, the new legislation would also make a way for manufacturers to focus on small capacity motorcycles as well as electric motorcycles in the upcoming years.
Besides this, Datuk Zailani Hashim said that JPJ will launch a new queue system called "MyQ" to reduce congestion for customers. The web-based project will be implemented this month at selected JPJ branches nationwide to provide convenience for customers.

The current legislations in Malaysia have broken down the classes for riding motorcycles in 2, basically B license and B2 license. Both licenses only have the requirements of being 16 and above to qualify for the training and the test.
B2 License - 250cc and below (That explains why the XMAX, CBR, etc are all 250cc in Malaysia and not 300cc like in Singapore)
Full B License - Open without restriction
As both licenses are already open to those who are 16 and above, how would implementing a B3 license make any sense for new riders and youth to sign up for a license that is so restrictive? One might be better off getting a B2 license so that there are more options of motorcycles to choose from.
Unless there is a large difference in pricing and/or time taken to get the B3 license, we have a feeling most riders would go straight to the B2 or B license. What do you think? Will the new system in Malaysia be effective to curb riding accidents and will the general public even consider getting a B3 license to start off with? Let us know your thoughts in the comments section below!