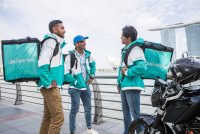 Deliveroo said shares worth £50 million (SG$97.37 million) would be earmarked for customers, riders, and other stakeholders in its upcoming flotation, should it be successful, with the offer branded "Great food with a side of shares".
The Amazon-backed food delivery firm announced plans on Thursday (Mar 4) to list in London, with a potential value of US$7 billion making it the biggest market debut in Britain for three years.

Deliveroo will be setting up a "Thank You Fund" to give back to its food delivery riders and partners as part of an appreciation gesture of sticking with the company throughout the years. The payout is very rationally based on the amount of tenure served with Deliveroo as well as the number of orders delivered, which also means that to be eligible for a higher-tier payout, riders would need to stick with Deliveroo for now and complete as many orders as possible.

We reported last week on AirAsia's massive push for the food delivery in the Singapore market by promising one of the highest payout per delivery, and this article happened to be one of the most read article we've had in awhile so we are certain that this 'war' between the food delivery giants is getting more heated as the big 4 - FoodPanda, Grab, Deliveroo, AirAsia start to hustle for more riders to be exclusive to them.

DELIVEROO THANK YOU FUND
Deliveroo said it would also recognise the role played by its delivery riders in its success with a £16 million (SG$29.89 million) reward programme to be launched on the day of listing.
The Thank You Fund will be available to active riders in Deliveroo's 12 markets, with riders eligible based on the number of orders they have delivered.
"There will be payments of S$18,500, S$1,850, S$925, with all riders who have worked with Deliveroo for at least one year and completed 2,000 orders receiving S$370," said the company in a press release.

Payments will be calculated by reference to the number of orders completed, with the largest payments going to riders who have completed the highest number of orders in each market.
The percentage of riders eligible for each award will be consistent across all markets, it added.
The average payment for each eligible rider will be S$815, while hundreds of active riders globally are set to receive the largest payment of S$18,500, said Deliveroo.
The company expects more than one-quarter of Deliveroo's global rider fleet to benefit from the scheme, with more than 36,000 riders globally receiving cash payments.
"Riders are at the heart of our business, and we want to reward their efforts that have helped Deliveroo become what it is today," said Shu.

"Over the last year riders have helped us do so much more than just deliver great food, having supported businesses and enabled vulnerable people or those self-isolating to stay safe indoors throughout a global pandemic. We're pleased to be able to say thank you."
Although details are scare at the moment, once we find out how riders can apply for this scheme, we will update it here immediately so be sure to check back on SingaporeBikes.com to see how you can get your hands on this if you're a Deliveroo rider!

More from Founder & CEO - Mr Will Shu
Founder and chief executive Will Shu said Deliveroo's customers had supported the firm's growth and he wanted to give them the chance to share in the next stage of its journey.
"Far too often, normal people are locked out of IPOs, and the only participants are the institutional investors," he said on Sunday.
"I wanted to give as many customers as possible the chance to become shareholders, which is why we're making £50 million of shares available to them, alongside our restaurant partners and riders."
Russ Mould, investment director at online platform AJ Bell, said a year of lockdowns had fuelled demand for companies like Deliveroo and there was an expectation that habits formed during the pandemic would remain long into the recovery.
"All this suggests there is likely to be a bun fight for the £50 million worth of customer shares in Deliveroo at the IPO offer," he said.
Article courtesy of Channel News Asia.