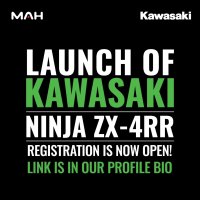 Join us for the 𝐠𝐫𝐚𝐧𝐝 𝐥𝐚𝐮𝐧𝐜𝐡 𝐨𝐟 𝐭𝐡𝐞 𝐊𝐚𝐰𝐚𝐬𝐚𝐤𝐢 𝐍𝐢𝐧𝐣𝐚 𝐙𝐗-𝟒𝐑𝐑!
𝟐𝟖 𝐒𝐞𝐩 (𝐓𝐡𝐮)
𝗠𝗮𝗵 𝗣𝘁𝗲 𝗟𝘁𝗱  is excited to launch Kawasaki Ninja ZX-4RR! on 𝟐𝟖 𝐒𝐞𝐩 (𝐓𝐡𝐮), 5pm to 8pm at Handle Bar Gilman Barracks @𝐡𝐚𝐧𝐝𝐥𝐞𝐛𝐚𝐫𝐨𝐫𝐢𝐠𝐢𝐧𝐚𝐥.
Don't miss it! Registration form is here -> https://forms.gle/qsXACwL1CjyxkZPd6


Their previously announced 𝐊𝐚𝐰𝐚𝐬𝐚𝐤𝐢 𝐒𝐢𝐧𝐠𝐚𝐩𝐨𝐫𝐞 𝐎𝐟𝐟𝐢𝐜𝐢𝐚𝐥 𝐎𝐩𝐞𝐧𝐢𝐧𝐠 will be shifted 𝐭𝐨 𝐚 𝐥𝐚𝐭𝐞𝐫 𝐝𝐚𝐭𝐞 as they have just received news on exciting new models launching!
𝐌𝐨𝐫𝐞 𝐝𝐞𝐭𝐚𝐢𝐥𝐬 𝐰𝐢𝐥𝐥 𝐛𝐞 𝐚𝐧𝐧𝐨𝐮𝐧𝐜𝐞𝐝 𝐬𝐨𝐨𝐧!
Mah Pte Ltd is the 𝗼𝗻𝗹𝘆 sole authorized distributor in Singapore to provide factory warranty from Kawasaki.

𝘾𝙤𝙣𝙩𝙖𝙘𝙩 𝙤𝙪𝙧 𝙎𝙖𝙡𝙚𝙨 𝙏𝙚𝙖𝙢:
𝗔𝗺𝗶𝗻 91149428
𝗙𝗶𝗿𝗱𝗮𝘂𝘀 82924460
𝗔𝗺𝗶𝗿𝘂𝗹 88152709
𝙎𝙝𝙤𝙬𝙧𝙤𝙤𝙢 𝘼𝙙𝙙𝙧𝙚𝙨𝙨:
1179 Serangoon Road
S(328232)