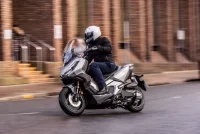 HONDA ADV350 (2022 - on) Review

Highlights
New 330cc scooter from Honda
Goes and handles like a motorcycle
Generously equipped
At a glance
Overall rating
Author: Michael Neeves
Rating:  4 out of 5 (4/5)
Honda struck gold when they released the X-ADV in 2017. Half scooter, half adventure bike, it may not have captured the imagination of riders in the UK, but for the rest of the world, especially Europe, where scooter culture a much bigger part of everyday life, they've flown out of showrooms.
Not only did they sell nearly 44,000 of them up to the end of 2021, but it was also Honda's best-selling bike of that year, too. So, it makes sense that they'd produce a smaller, more affordable version: the ADV350.  
The new twist-and-go makes perfect sense for commuters who want a bit more poke and flexibility than a 125. Not only will the ADV350 ping to motorway speeds as quick as you'd naturally accelerate on a motorcycle and do over 95mph, it has genuine big-bike handling, braking power and road presence.

Whether or not an adventure-styled mid-sized scooter that can handle a spot of light off-road floats your boat, one thing's for sure: the ADV350 is an impressive machine in its own right.
It feels every inch a well sorted – albeit sometimes firm, motorcycle with strong performance and solid, reassuring handling, but it also enjoys all the benefits of being an easy to live with twist-and-go-too.
It's smooth, simple to ride, comfortable and with superb fuel economy and lots of storage, it's practical, too. Best of all it's cheaper than its premium brand rivals, despite its superb build quality and generous equipment level.  
What really separates the ADV350 from your average scooter is the way it's screwed together and how it holds the road. This is no flimsy, built down to a price runabout.
It's solid, well finished (it comes in red, silver and black) and doesn't crash, bang and fold itself in half when you show it a small bump. Granted the ride can be firm over rough roads – the payoff for being able to handle the dirt, but thanks to its lightweight tubular steel frame and proper forks, the Honda is stable, confident in corners and its Metzelers have lots of wet and dry grip.

Honda's Rome-based R&D department have been unapologetically bold with the adventure styling, too. It's a physically large and substantial machine, but at the same time light, agile and manageable to ride.
Its demeanor also serves to keep you safe - it looks so much like motorcycle at a glance, you don't get bullied by traffic, like you do on a conventional scooter. It's comfortable, too, but with such tall bodywork in front of the seat it's not as easy to swing your leg over as a regular 'step through'.

The action of the manually adjustable screen is simple, too. In its high position (it has a 133mm range) it's great for keeping rain off around town and in the lower, more raked positions there's minimal buffeting for motorway riding. It's actually quieter the lion's share of 'proper' adventure bikes.
Powered by the same 29bhp, 330cc single cylinder engine you'll find in Honda's maxi scooter-style Forza 350 and pizza delivery-shaped SH350i, the ADV350 is smooth, quiet and friendly.
Spritely performance has more in common with a big cube maxi-scooter than an oversized 125 and it's smoother at low speed than its bigger 750cc parallel twin cylinder sister, simply because it has a proper 'elastic band' scooter CVT gearbox, rather than the X-ADV's jerky DCT.
Honda claims 83mpg, which adds up to a 213 range from its 11.7-litre fuel tank.

Reliability & build quality
Although it's a new model, you can use Honda's X-ADV and 300/350cc scooter range as a gauge to any reliability issues… and there aren't any. Fit and finish are excellent, too.

It isn't cheap, but when you look at the level of spec and performance you get for the money, the asking price becomes more agreeable.

You can find cheaper mid-size scoots from the less premium manufacturers, but they won't have the Honda's build quality, level of equipment or resale value.
Standard goodies include 37mm Showa upside down forks and twin piggyback shocks with dual rate springs, a Nissin front brake caliper, a four-way adjustable screen, hand guards, wide adventure style handlebars, LED lights, keyless ignition, two USB chargers, ABS and two-stage (including 'off') torque control.
It has small scooter-sized (15in front, 14in rear) aluminium cross-spoke wheels, but they're shod with top notch Metzeler Karoo Street dual purpose rubber…just in case you need to ride across a field on your way to work.

48 litres of underseat storage (with a removable separator plate) is enough for a full-size helmet and a smaller scooter-style lid. It also has a 2.5 litre glove box.
Multi-function LCD dash, controlled by left switchgear has smart phone voice control for calls, navigation, music and texts via Honda's RoadSync app.
Accessories include a 50-litre top box that works with the keyless system, a rear rack, heated grips, a U lock and bike cover

Model history
2022:

 

Honda ADV350 introduced
Other version
There are no other versions of the Honda ADV350.




Article Credits: motorcyclenews
Join SingaporeBikes on Telegram for the the latest news, special offers, reviews of motorcycles, and more!