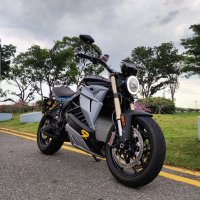 If you've missed our first article on the launch of the Energica brand of EV superbikes here in Singapore, take a couple of minutes to read that article to give you a backstory of how local distributor Ifyni Pte Ltd - is taking the lead in electrifying the roads here in Singapore with the introduction of Energica's range.

Journalist from the media, industry partners, and influencers alike were super excited when we first got the call from Mr Eugene Mah, Operations Head at Ifyni Pte Ltd (and also Managing Director at Mah Pte Ltd) to test out the first of 3 models that will be coming to Singapore, the Energica EsseEsse 9+.

Although EV vehicles such as Tesla are becoming more common sight on the roads, this has not necessarily transcended down onto the 2-wheeled variety due to the sheer cost of what one of this machines will cost, and not to mention, in most South-East Asian countries, the motorcycle is seen as an affordable means of transport and the market demand of a specialised one such as the EsseEsse 9+ would not be the first thought that comes to mind.

This however, did not stop Ifyni from tackling the challenge head on as they believe that it was only a matter of time that EV becomes commonplace on our roads, and that having a first-mover advantage representing a world renown brand such as Energica would eventually bear fruits. It does take courage, a lot of commitment, a sizable investment, and of course lobbying the authorities to make this work and if anyone is able to do it, Eugene and the team at Ifyni are definitely one of the ones.
First Sighting of the Energica EsseEsse 9+
Although test rides are by invitation at the moment, we were lucky enough to find a slot whereby the EsseEsse 9+ was available to be loaned to us for a couple of days so that we could really put the bike through its paces and see what it was like to live with an electric motorcycle day to day.

We collected the motorcycle on a Saturday afternoon, and fortunately traffic was low and the showroom was winding down at the end of the day as this gave us some time to fully take in and absorb what stood before us. At first impressions, the EsseEsse 9+ is exactly what you would expect of a bike from the future. Its design cues and styling are exaggerated, traditional dials are missing in place of a full LCD screen, and the build quality and level of parts used were impressive to say the least.

Even stock, the EsseEsse 9+ comes with massive monoblock Brembo calipers upfront with dual floating calipers, Marzocchi USD forks at the front, and enough radiators to scream "high performance", albeit unlike in a normal motorcycle, these are to cool the battery packs and power plant, instead of the traditional gasoline engine.

There are also enough decals around the bike showing "High Voltage", "Danger" and the likes to hint that this is in actual fact, a fully electric superbike that is made for the roads. As the skies started to turn dark as we were waiting to depart from the collection, the guys at Ifyni jokingly assured us that it would be completely fine to ride in the rain, and that we would not be electrocuted.

Overall, the build quality for a machine with a starting price of S$69,000 - is fitted with branded, quality parts befitting of its price. What intrigues us more however, would be how it would feel like to ride, as we were warned of its weight in advance while trying to move the bike. 
How Does It Ride?
As with most electric cars or motorcycles, this is a heavy beast, without a doubt. Weighing in at 258kg, this would be right up there with the heavier Class 2 motorcycles around but take our word for it. Once you get the beast moving, this bike feels just about as nimble as you would expect an Italian, naked, superbike to feel. At stationary, it comes with a reverse gear to aid you in maneuvering and moving the bike around so don't let that 258kg figure put you off.

2 things stood out most to us during the test ride and over the couple of days that we've had with the motorcycle.
Firstly, it was the sound from the motor. Any die-hard motorcyclist and petrol head will tell you that without a big thumping engine, you cannot be considered a real motorhead! However, what we found when we spent a couple of days with the EsseEsse 9+ is that there was a certain beautiful tone that comes from the oil-cooled AC motor when you are winding it up the highways! Similarly to its gasoline cousins, it DOES get louder and more intense that you twist that throttle and pick up speed!

In the earlier years of EV technology, most AC motors sounded rough and even bordering on being quite irritating, but the unit in the Energica actually sounded rather pleasant, almost as if there was a "tuned exhaust" being put on the electric motor.

The other thing that stood out to us was the sheer comfort and predictable handling characteristic of the motorcycle. I would love to personally fly down to Italy and find out from the Energica engineers how they have managed to pull of this feat. Looking at the suspension setup and geometry, at a start it does seem very unique with Marzocchi forks up front, and an off-set Biturbo single shock at the rear.

The EsseEsse 9+ was extremely compliant on the highways, going over bumps and making the ride buttery smooth, but at the same time, when attacking corners hard - the bike turned in well and grip was never lacking unless you are taking the corner at stupid speeds!

Another pointer (yes i know we said 2, not 3) that we'll also touch on later is that in actual fact on our tiny island, we honestly never got range anxiety throughout the 3 days that we had the bike.
Technology & Features Of The Energica EsseEsse 9+
The Energica EsseEsse 9+, unsurprisingly comes loaded with all the latest test features and gizmos that you could ever want. From having a full LED lightning all around the bike, to a fully digital dash, and more riding, traction, and "engine braking" modes that you can throw your book at.

More specifically, there bikes comes with:
7 levels of Traction Control (including OFF)
4 Riding Modes (ECO, URBAN, RAIN, SPORT)
4 levels of "Engine Braking" (including OFF)

We found the digital dash easy to read although in direct sunlight there was a considerable amount of glare but that can easily be taken care of by a matt screen protector. The amount of information provided is just right and doesn't clutter the dash too much although the menu options can be a bit finicky to go through and would be best done at a stand-still.

In an ideal world, Android Auto and Apple CarPlay integration would be appreciated for a motorcycle at this price point but at this stage we are just nitpicking!
Fret not however if all these tech and jargons are confusing you. Using this premium, next generation motorcycle however, is as simple as riding a Yamaha Aerox - just Twist and Go! It betters the Aerox by having a reverse gear as well and this is just yet another positive of an AC motor, in which even automatic motorcycles can have a reverse gear just by changing the direction of current flow through the motor.

What If I Run Out Of Petrol? Where To Charge?!
When reviewing or talking about an electric vehicle, the inevitable question always happens: What do you do when you run out of juice?
Depending if you're riding within your neighbourhood or going for a hoon on the expressways, the EsseEsse 9+ will return a range of anywhere from 200km right up to 420km according to the manufacturer. In the few days that we had the bike, we estimate a real-world usage range of about 300km which is right about average. This is comparable to many other Class 2 motorcycles out there and with over 200nm of torque and a 0-100km/h time of 2.8 seconds, we reckon that range is pretty commendable.

Another positive point (no pun intended) on the batteries is that it has rapid charging technology built in and if you are at a high-ampere charging point, Energica reckons you can go from 0% to 85% state of charge in as short as 30 mins!

As we write this article, the government and private entities here in Singapore are continuously working towards new charging points all around the island. Currently, there are approximately 400+ charging points in Singapore where you can charge the Energica motorcycle and most if not all imported EV-type vehicles currently are using a standard charging plug that would enable you to charge your EV motorcycle almost anywhere.

SP Group and Blue SG are leading the pack with the number of outlets islandwide and SingSaver did an excellent article on where you can find the various charging points. From an empty battery pack, it would cost about S$4-5 to fully charge up your motorcycle so this would be much cheaper than a comparable Class 2 petrol motorcycle.

Final Verdict
So what do we think of the Energica EsseEsse 9+? Being the first product of a full-production electric superbike, this is a very worthy entrant here into Singapore. The price might seem high but when you compare the specifications, and the amount of bike you are getting, it actually isn't that much more expensive than the likes of Ducati, BMW, KTM, and the other more established brands.
What you will be getting however, is becoming a forerunner is what the future will be, the only difference being, you can have it right now.
Test rides are still by invitation only, but if you are a keen buyer, be sure to hit up the guys over at Ifyni Pte Ltd to see if they might be able to slot you in!
We are certainly looking forward to the arrival of the Energica EGO to reach our shores as that is the all out superbike from Energica that is almost identical to the race bikes used by Moto-E. We promise we won't drop this one if we can get a review in, Eugene.

For more information, check out:
Ifyni Pte Ltd - http://www.ifyni.com/
Energica - https://energica.ifyni.com/
Contact - [email protected]