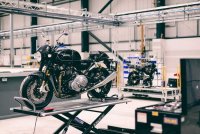 NORTON Motorcycles has just opened its new state-of-the-art production and manufacturing facility in Solihull near Birmingham. Norton Motorcycles is just a month or two away from swinging open the doors of its new production facility in Solihull.

We've known about the Norton relocation for some time, with the firm's interim CEO, John Russell talking extensively about the move when he was interviewed in recent times. It was also clear that Norton was not going to do things by half when it came to finding a new home. It needed a bespoke building, not an office that was converted into a production facility.

To facilitate this, Norton's owners TVS have poured a multi-million pounds investment into the renowned British brand and given it a brand new production base that is due to open in March.
The premises will be the central hub for all of Norton operations, providing a permanent base for all staff. The new headquarters will be home to design, engineering, purchasing, sales, marketing, and support teams as well as the skilled production team that is resuming the manufacture of motorcycles.

The new manufacturing facility will make use of modern-day, quality-assured production processes. Skilled technicians will deploy bespoke bike building techniques and state-of-the-art new manufacturing equipment to ensure all bikes are built with great precision and quality, a hallmark of both Norton and TVS Motor Company. Norton will resume production of the Commando Classic model at the Solihull site, building a limited quality to honour customers that had ordered and paid for a deposit on these bikes. Production of the V4SS will commence soon and the full opening of the facility is expected in Q1 2021.

Sudarshan Venu, Joint Managing Director of TVS Motors, said:
"The opening of the new headquarters represents a significant step forward for Norton Motorcycles. The opening of this state-of-the-art facility will create the foundations for a sustainable long-term future of Norton. The new bikes will meet the world class standards our customers expect.

 "2020 has been a tough year for the world but we are excited to be moving into our new home and we are delighted this has been created by the Norton and TVS teams in just 9 months. This new facility underpinned by strong quality processes will produce bikes truly worthy of the illustrious Norton brand and take it into the future. We are setting out to create a future for the company, our employees, our customers and our partners that lives up to the highest expectations and enable Norton to once again become the real force its history deserves."

It is amazing to see a resurgence of the Norton Motorcycles brand, which is undoubtedly one of the most famous and beloved British brands to have made it on the international stage. While Norton might have had some troubles over the last couple of years - we'd pretty certain that under new owners TVS that Norton can start getting back on the right track.
Are there any Norton lovers in Singapore? We have our fingers crossed that the official distributor will be relaunching with a bang once production is up to speed.
An a bonus, here's a picture of some beautiful Norton Motorcycles based here in Singapore from the Norton Motorcycle Club Singapore:

1