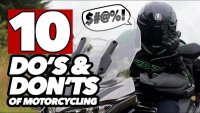 TOP TEN THINGS NO BIKER SHOULD EVER DO... BUT PROBABLY HAVE
Whether new to biking or not, you may benefit from reading these top ten things no biker should ever do…

REGARDLESS of how long you have been riding motorcycles, there is always something new to learn about this fantastic way of life. On this journey of discovery, you'll pick up many good and not-so-good habits. In this top ten, we cover the top ten things no biker should ever do.
Ever. Don't do them, and stop thinking about them!
Top ten things no biker should EVER do | Motorcycle Dos & Don'ts!
1. Take inadequate security measures
Some bikes are stolen by skilled, determined thieves who would probably bore through solid rock if that's what it took. Others go because the owners are naïve to the level of risk. In fact, loads do, every year, putting up insurance premiums for everyone.
The factory-fitted steering lock will take seconds for an opportunist to break. Rely on it and there's a very good chance you'll never see your bike again after day one.
Get a disc lock, get a ground anchor (or two, one for each wheel), get big chains - and use them. You'll never regret taking too many security precautions.
2. Use a disc lock without a reminder
A disc lock reminder adds a little extra inconvenience to locking up your bike, especially if it's cold and wet and you're in a hurry – and it's easy to tell yourself you don't need it.
You do. Maybe not every time you unlock your bike, but we promise at some point you'll be distracted and won't remember that lock until it wallops into your brake caliper as you try to pull away.
If you're lucky it might only be embarrassing. If you're not, it could cost you hundreds for a new disc and caliper. You could even get hurt – and it could all be prevented by a £2 plastic coil with one end looped around the lock and the other around the handlebar.
3. Ride at anyone else's pace
He got around that corner, so physics says I can too, right?
Not necessarily, because a crucial variable is ignored in that hypothesis: the rider.
He may be well within his comfort zone, while any sense of confidence you're experiencing is vicarious and apt to take flight if startled.  
With a lifetime's experience, there will still be some riders that you are unable to keep up with, and you don't have to, because you'll never be at your best when you're over-reaching your ability.
4. Panic brake
And here's what can go wrong when newish riders push too hard too soon. It's such a textbook error that an experienced rider will probably be able to tell you what went wrong even though you may not be sure (and examples of it, like the one above, are all over YouTube).
You were taking a corner. Suddenly your brain decided you were going too fast and told your fingers to grab the front brake. As a result, you went off-road or into the opposing lane, either because you locked the front and crashed or because braking caused the radius of your turn to increase.
Don't grab the front brake. Unless you've got cornering ABS, it makes a crash more likely, not less. If you can't train your brain to resist the temptation, slow down until you can.
5. Get too cold
Everything's more difficult when you're really cold, including concentrating and spotting hazards in good time.
Twenty years ago, perhaps, we had an excuse. With the riding gear that's available now, we don't.
A £100 heated vest will help make even sub-zero motorway rides entirely bearable. Warm and waterproof textiles are available to suit a range of budgets (although Gore-Tex probably remains the most reliable option for keeping you dry).
Heated grips will make any winter ride so much nicer.
It's all no-going-back stuff – once you've had it, you'll never be without it.
6. Assume anyone has seen you
There's a bike somewhere in the picture above. Okay, so the Department for Transport edited the road safety image to make the bike even harder to spot.
The fact is, you're really looking for it – and car drivers are not really looking for you.
Hi-vis kit does no harm but there's no substitute for riding like you're the invisible man on a dark night.
7. Ride when angry, stressed or upset
When Yamaha released this promo video for the Tracer 700, some Visordown readers commented that riding after an argument probably wasn't to be recommended. And while we don't think Yamaha intended the video as road safety advice, we sort of agree.
Having a bad day? A really bad one? Then think about not getting on your bike. Feeling angry, stressed or otherwise upset can lead to bad decisions, as well as effecting concentration. Motorcycles are as safe as you make them. Make yours safer by putting someone else in control for the day, like a bus driver.
8. Take things personally
Some drivers resent motorcyclists slicing through traffic, blind to the fact that by doing so we're reducing their journey time as well as ours.
So they'll try things like sticking to the car in front, to deny you any gap to pull into should you need one.
Let them. Back off, pull in behind and then overtake them and a dozen other cars at the next safe opportunity.
The battle to stop motorcyclists filtering is one that angry driver can never win – but which you could lose by making it a personal stand-off.
9. Join the back of the queue
Quite apart from easing congestiong for everyone, there's another reason why filtering is a good idea. It's when moving traffic suddenly slows that some numpty on his phone is most likely to plough into the vehicle in front.
If you're filtering through the queues instead of at the back, it won't be you that bears the brunt.
10. Don't be that armchair bore
You know every bike ever made, and you've probably ridden most of them. When you go for a ride with your mates, you have to stop and wait for them every couple of miles. Knee down? You've had your elbow down, and you once scraped the cylinder head on an R1200GS.
You can precisely diagnose any serious mechanical issue from 1,000 yards and probably fix it before lunch. 
In short, you have nothing new to learn about motorcycling.
Wrong.
Like every good hobby, motorcycling attracts some people who are determined to be the world authority on it.
You're not the world authority but you have become an armchair bore. Just ride.
Article Credits: visordown