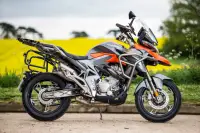 Yes, it's Chinese, built down to a price and has performance that won't set the world on fire, but the Zontes ZT310-T is also a hell of a lot of surprisingly well-equipped bike for the money.
Originally named the T310 when launched in 2019, it's comfortable, smooth, swift, doesn't panic when you show it a corner and way cheaper than its Class 2A counterparts and even certain Class 2B rivals.
Only time will tell how durable it will be and what it will be worth a few years down the line, but engines have always been bulletproof and Zontes build quality has moved on from the bad old days of Chinese bargain buckets.

Updated for 2021 and renamed: Zontes ZT310-T
Detail changes for 2021 add extra refinement to what was already a capable, very well-equipped, nicely finished and incredible value Class 2A licence-friendly all-rounder. It isn't the last word in excitement but the Zontes is comfortable, smooth, gets from A to B with little fuss and never lacks real world power or gets flustered in corners.
If you opt for the 19in front wheel version it could handle some very light off-road trails, but the grip from its dual-purpose rubber in the cold and wet could be better. Best of all Zontes are starting to get top marks in our online owners' reviews, which bodes well for the Chinese firm. However, alongside the above changes for 2021 was a slightly higher price tag to justify the extra kit. 
Ride quality & brakes
Granted, it doesn't ride with the grace of a Ducati, or have refined controls of a Honda, but you know what? It isn't half bad, especially when you keep reminding yourself the low cost of entry to Zontes ownership. Even the major manufacturers would struggle to produce so much metal for so little.
Once you've picked yourself up off the floor from the shock of the impressive spec list, you'll ride down the road and discover the Zontes does nothing wrong on the move. There are no nasty vibes from the engine, thanks to its balance shaft, it doesn't go one way when you want to go the other and everything works exactly as it should.
It doesn't have the behemoth dimensions of a big capacity adventure bike, so carrying pillions will be a squeeze, but that keeps things light and manageable. The 159kg machine is comfy enough for one and has a roomy riding position. Big mirrors are clear and the two-position screen quiet and effective.
Non-adjustable suspension offers up an unflustered ride and there's no sign of the cheap, crashy ride your bones and false teeth would normally have to contend with a Chinese bike over bumps.
Unlike most adventure-style machines the ZT310-T wears a 17-inch front wheel up front rather than a 19 or 21, so your off-road pretentions will need to be tempered to bumping up a kerb at the McDonald's Drive-Thru, but on the road the Zontes rolls easily from corner to corner with little effort. 
Dual purpose CST tyres have adequate grip wet or dry, the single 260mm front disc and twin piston caliper gets you stopped easily and a dab of rear gives you extra stopping power when you need it.

2021 Zontes ZT310-T ride verdict
The way the Zontes rides and conducts itself in the corners is perfectly acceptable for the price. Returning a claimed 31.5km/h from its 19-litre fuel capacity (up from 15 litres in 2021) will get you a theoretical 482.8km from full to empty…or Singapore to Malacca and back without having to get off. The riding position and large padded seat are comfy enough to do those kinds of miles in one hit and its two-way electric screen shields you nicely from the elements.
Its physical size is somewhere between a Class 2B bike and a full-size adventure bike, making it manageable at low speed and easy to get feet down at a stop, but it's slightly cramped for bigger riders and for two-up work.
For 2021 the ZT310-T comes with either cast aluminium 17in wheels, or a spoked 19in front, which raises the seat height from 795mm to 830mm. They're shod with CST dual purpose tyres, which are fine in the dry, but lack grip on cold, wet tarmac. The adventure style wheel and tyre combo are there more for looks than any real off-road pretensions, not least because its cruiser-style front mudguard would quickly scoop up mud and lock the front wheel. For more natural on-road handling and a lower seat the 17in wheel option is the one to go for.
A twin sliding piston front caliper bites a bigger 300mm disc (up from 260mm) for 2021 and the rear is up 30mm to 230mm, so braking power is never a problem, even at spirited speeds, plus there's Bosh 9.1M ABS to bail you out just in case. Steering has the slightly lazy feel of a bike with a 19in front wheel, which you quickly get used to, but it's an easy bike to jump on and ride and doesn't spring any nasty surprises. Non-adjustable suspension is soft, forgiving and never sloppy or crashy, just well balanced and confidence inspiring.
Engine
A liquid cooled 311.7cc single cylinder dry-sumped motor (oil is stored in the frame) will never set the world on fire for the experienced, but for the new rider there's a broad spread of throbby single cylinder power, decent low-down punch, perfect fuelling from the Delphi injection and enough oomph to cruise at motorway speeds and above. There's no slop in the gearbox and not a false neutral in sight.

2021 Zontes ZT310-T engine verdict
The ZT310-T is powered by the same liquid cooled, DOHC, 312cc dry sump (oil in the frame) single with nickel silicon carbide plated aluminium cylinders. It produces just 35bhp and 22ftlb of torque, but it's enough to push the Zontes along at a decent rate of knots. It'll handle A-road overtakes with a few down changes (the six-speed gearbox works perfectly) and tops 90mph. The engine is smooth at low and mid rpm (a bit strained above) and has nice fuelling with Bosch fuel injection replacing Delphi for 2021, along with the addition of a slipper clutch to get rid of unwanted engine braking.
Reliability & build quality
Cylinders, swingarm and wheels are aluminium, the steel fuel tank is galvanised, plastics are sturdy and the stainless-steel exhaust (which has 'cool touch' stacked end cans, that won't burn luggage or your pillion's leg) all count towards long term durability and already this current generation of Zontes machines are getting the thumbs up from owners. Paint finishes and plastics are sturdy and you get a two year warranty from the local Zontes dealer. Servicing is every 5,000km.

Value vs rivals
Chinese-built bikes always score against their rivals in the price department and the ZT310-T is no different. Add in all its toys and an impressively capable ride and it's an even bigger bargain.
To ride and live with the Zontes is a pleasant surprise. Of course, it's never going to be as polished as something like a Honda CB400X, but then the ZT310-T is two grand cheaper and most importantly a step towards convincing us that Chinese bikes really can be taken seriously.

2021 Zontes ZT310-T vs rivals 
In terms of bang for your buck the Zontes ZT310-T has a level of standard equipment to embarrass a top-shelf European adventure bike and it's cheaper than a KTM 390 Adventure and BMW G310GS. In terms of price and performance the Zontes is on par with the Sinnis Terrain 380 and Royal Enfield Himalayan.
Equipment
The Zontes is surprisingly well equipped with keyless ignition, two riding modes, Bosch 9.1M ABS, an LCD display, lightweight lithium battery, USB charger, adjustable brake and clutch levers, electric screen, seat lock and fuel tank cover. Rugged, hard adventure-style panniers and a top box are also available as an accessory.
2021 Zontes ZT310-T equipment
A TFT colour display with Bluetooth connectively replace an LCD display for 2021 and doesn't look too dissimilar to an exotic MV Agusta's.
Elsewhere the spec level belies its bargain basement price: keyless ignition, two riding modes (Sport, Eco), a USB charger, adjustable brake and clutch levers, an electric screen, automatic seat and fuel flap release, a cubby hole under the dash, rack, bullbars, handguards, LEDs, backlit switches and a metal tab on the pillion peg for a disc lock and MV stainless-steel 'cool touch' stacked end cans, that won't burn luggage or your pillion's leg. Hard adventure-style panniers and top box are also available as an accessory.

With the increasing popularity of Zontes bikes in Singapore, they might just be a more common sight on the roads in the near future. With its bargain basement price, handsomely good looks, and more tech than you can throw at an IT geek - There's nothing not to love about the ZT310-T.
We'll just have to see in a couple of years if the Chinese made bikes will have the same kind of reliability as their Japanese counterparts, which have made brands such as Honda, Yamaha, and Suzuki such a big draw in South-East Asia.