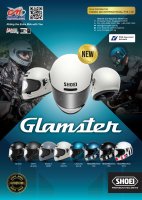 The Shoei Glamster is another full face retro helmet that's designed to give you yesteryear's styling and attitude alongside a hefty dollop of modern day helmet tech.
It's aimed at giving you the chance to stand out from the crowd while having much of the safety features and utility of a modern day lid. Which is a great idea.

And since the Glamster shares its AIM helmet shell with many other modern day Shoei helmets, and because it comes with a Pinlock antifog visor and features like EQRS (emergency quick release cheekpads) – the idea is that you really don't have to compromise.
Shoei's exclusive Singapore distributor - Chong Aik:
Quote "SingaporeBikes.com" when you contact them to let them know we sent you!

34/36 Desker Road, Singapore 209566
+65 6297 2532
 9am-6pm | Mon-Fri
 9am-5pm | Sat
So, if you like the look of the Shoei Glamster and are wondering whether it's worth buying one – here's all the info you need.
Retro full face helmet
Fibreglass AIM shell
3 Shell Sizes
EQRS
Pinlock antifog insert included
Sizes XS-XXL
Double D-ring fastener
Safety
The first thing to say about the safety of the Glamster is that it's got Shoei's AIM (advanced integrated matrix) fibreglass shell.
That's the same shell tech that you'll find on the GT Air II and the SHARP 5 Star rated Shoei RYD.
OK, the RYD scored maximum marks for safety and it's got the same helmet tech, but that's not the whole story, because SHARP have tested four Shoei Aim helmets so far and they've scored anywhere from 3 to 5 stars.

So, if all things are reasonably equal, we'd expect the Glamster to score somewhere in that region too, which is pretty good going for a retro helmet. From memory there's only the Bell Bullet retro that's been SHARP tested so far and it scored 3 stars.
Shoei has created the Glamster in three different helmet shells – that's good for fitment, looks and safety and it's a reasonably number of shell sizes for what's actually a competitively priced helmet.
Inside the helmet, you'll find a dual density EPS liner (par for the course) and the helmet's strapped to your bonce with a good ole fashioned and suitably retro double d-ring fastener.
D-rings are generally straightforward to use and secure, so you shouldn't have any problems here. I say 'shouldn't' because I'm currently struggling along with my latest Simpson helmet and the double-d ring doesn't slide very well so it's a real pain. Still, that's a rarity.

Shoei has also included an EQRS liner inside the helmet – so if you do have an off-motorcycle excursion and the ambulance crew need to pull off your helmet, the EQRS cheekpads should make things easier.
Including a Pinlock-ready visor on a retro helmet is a great touch too. It's not massively in keeping with the retro vibe, but I'm pretty sure if riders in the 60's had the option of being able to see out of their visors on cold and rainy days, they'd have bitten your hand off for a Pinlock – so why not?
And it's good to see Shoei including a Pinlock with the helmet – that's always a big tick in the box in my book.
So, overall, there's lots going for the Shoei Glamster to suggest it'll be a sound, protective place to put your head – which should probably be item number one on why we're buying a helmet, right?

Ventilation
Shoei's added a few air vents into the shell of the Glamster, though they're not really what I'd consider massively practical.
Those chin vents for example. While there are four of them – so they should let in quite a bit of air – they're always-open, meaning that air's always going to be pushing through the chin bar whether you like it or not.
The forehead vent is closeable though, and it should let a reasonable amount of air into the top of the helmet.
There are fairly generous internal air channels inside the helmet too and there are corresponding venting holes and cutaways in the internal liner to let some of that air get through to your head.
The only problem here is that there are only two tiny exhaust vents in the bottom of the neck roll to let any air out. Which is going to reduce the helmet's ability to vent around the head.
It's no surprise then that the word is ventilation's about average – you can feel some air but you can tell they've prioritised form over function in this area, which is hardly a surprise in a cool-looking retro helmet I guess.

Visor
Of course, venting's also used to keep the visor mist-free, and if you're riding in cool/damp/humid air, then the Glamster will have a tendency to fog up.
Thankfully, despite it being a retro-style visor, Shoei's made it Pinlock ready and included a Pinlock in the box. So, attach the Pinlock and most of your misting problems will be gone.
The visor opening's reasonably generous for decent all-round vision, though it isn't a quick release visor so if you ever want to swap it out or remove it for cleaning, you'll have to get your screwdriver out.
Shoei's put a visor lock on the bottom of the visor, so close the visor and it'll automatically lock. Push up on the black tab/lock and the visor unlocks.
I've heard that it can be a bit fiddly to use at first and you might need to pull the tab forward a bit to disengage – but who said looking cool and retro was going to be easy. I mean you've gotta have some of the rubbish features that came with old helmets, right?
Other than that, Shoei's taken an old style visor and made it work well.

Comfort and Sizing
Internal fitment of the Glamster is medium oval – so should be the right shape for most riders' heads.
There's not much info on what materials Shoei uses inside, except to say it's a fully removable/washable liner with 3D moulded cheek pads.
It's also got EQRS quick removable cheekpads in there which is always worth having – anything to reduce injury, right?
If you're looking to fit a comms unit in there, you might be disappointed if your speakers are anything other than super thin, because there aren't any speaker pockets in there, which is a shame.
Shoei does know how to make a comfortable helmet though, so provided you suit the head shape, we expect the Glamster should be comfortable for long days spent on the North Circular.
Looks & Graphics
You can probably guess at the sort of graphic options available for the Glamster?
There's a nice off-white and a couple of blacks as well as a plain Basalt grey and Laguna blue. At the time of writing there's also a range of different colourways in the Resurrection graphic incuding a white, blue and black.
But you just know there's going to be a stack more classy designs coming out soon. Feel free to click through to our recommended stores below to see the latest designs and Glamster deals. Nice one.

Weight & Warranty
The Shoei Glamster weighs around 1.2Kg (2.65lbs) making it a properly light weight helmet.
It comes with an excellent 5 year warranty.
Overall
The Shoei Glamster looks set to deliver modern day helmet tech in a quality retro package.
Not only does it look the part – using tried-and-tested Shoei tech. But looking at the data, we expect it'll offer good levels of protection too.
Shoei knows how to build a quality helmet and the Glamster has a ton of features that you'll find on their modern full face helmets – including that Pinlock ready anti-fog visor (with free Pinlock) and EQRS.
Just because it looks a bit 60's doesn't mean it won't work like a 20's helmet.
There's a new wave of retro helmets that work like modern helmets and the Shoei Glamster is the latest in the line. So if you like the look but still want a helmet that works on your ride, we've no doubt the Glamster will fit the bill admirably.
The Shoei Glamster is now available via Shoei's exclusive Singapore distributor - Chong Aik:

34/36 Desker Road, Singapore 209566
+65 6297 2532
 9am-6pm | Mon-Fri
 9am-5pm | Sat
As the SOLE AUTHORISED DISTRIBUTOR of SHOEI premium helmets in Singapore, enjoy these perks when you purchase from Chong Aik:
Asian Fit for Optimal Head Comfort
PSB Approved Helmets (Compliant with Singapore's Traffic Regulation)
5 Year Warranty for Helmet Shell
Complete Helmet Accessories