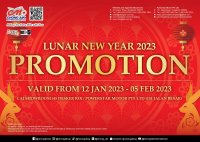 Chong Aik: Lunar New Year 2023 Promotion

Hop into a prosperous Lunar New Year and enjoy great deals on brand new riding gears and accessories with our LUNAR NEW YEAR 2023 PROMOTION!

Many more promotional deals for various brands are also available! Call us now at our showroom (+65 6294 2532/1) to find out more!

Check out our current ongoing promo deals at:
https://www.chongaik.com.sg/content/9-promotions

Check us out on all our social media platforms:
https://linktr.ee/chongaiksg
Visit us at:
Helmets & Apparels Showroom

45 Desker Road, Singapore 209576

(+65) 6294 2532/1

9am-6pm | Mon-Fri

9am-5pm | Sat
Powerstar Motor P/L

151 Jalan Besar, Singapore 208869

(+65) 6392 5803

10:50am-7:30pm | *Tue-Sun
* temporary operating hours