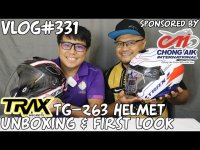 Check out this review of the ever popular TRAX TG-263 helmet by our favourite YouTuber - @Farhan Tre and @ilyazar!
For a limited time only, get a FREE inner lining cap with every purchase of the TRAX TG-263 helmet (PSB approved!)
The helmet is available in 3 solid colours ($80) and 7 liveried colours ($90). You can check out the full range of colours available over here on Chong Aik's official website:
https://www.chongaik.com.sg/search?controller=search&s=tg263


This is our favourite - The White/Italy Colourway!
SHOPEE link here (stack those vouchers!!): https://shopee.sg/shop/292911042/search?shopCollection=112967145
Size available: S / M / L / XL
Material: ABS
Weight: 1.5kg
Ventilation: Top and Rear Ventilation
Inner Visor: Yes
Inner Lining: Removable and washable cheek pad
Retention System: D-ring
In compliance with LTA (Land Transport Authority) and the standards of PSB certification, all of Chong Aik's TRAX helmets are equipped with D-Ring.
TRAX is distributed in Singapore by Chong Aik International Pte Ltd

45 Desker Road, Singapore 209576
Phone: (+65) 6294 2532/1
Open on: Mon-Fri: 09:00am-06:00pm / Sat: 09:00am-05:00pm