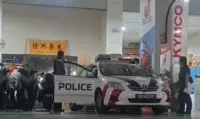 On the 21st of September 2021, J's Auto, via their official Facebook page, posted a statement that an employee has been arrested by the Singapore Police Force for act(s) of Criminal Breach of Trust. Simply put, in the eyes or the law, there was a case or case(s) of cheating, scamming, or misappropriation.

CBT is governed by sections 405 to 409 of the Penal Code of Singapore, and is generally defined as the dishonest misuse of funds or property by someone who has been entrusted with dominion over that property. The person must have either:
Dishonestly misappropriated or converted the property for his own use;
Dishonestly used or disposed of that property in violation of any law or contract; or
Intentionally allowed another person to commit the above.
This act of CBT, was allegedly committed by one of the employees at J's Auto - by a certain Mr Loh Chee Peng, who otherwise go by the alias Eric, Dennis, or Chris. Beats us why one person would require so many aliases but i guess we will find out as the case progresses on.
If found guilty of committing regular CBT, the punishment can include up to 7 years of imprisonment and/or a fine, which the court will decide the amount for. It is pertinent that we state and acknowledge in this article that investigations have not been concluded and this is only alleged at this point in time.
J's Auto is one of the more popular workshops for modifying and accessorising your motorcycle located at Woodlands. The exact extend to the fallout from this situation is yet to be determined, but point to note is that J's does not only sell aftermarket accessories and general servicing, but also partake in the selling, financing, and buying of entire motorcycles. This might cause the quantum to be significantly larger than what it would otherwise be.


Some motorcycles awaiting modifications at J's Auto
If you've recently dealt with Mr Loh Chee Peng, having provided a deposit/payment to him for goods or services that have yet to been rendered, here's how you start the process for getting your money back. The owner of J's Auto - Pierre, has stated that he would try his best to make good those that have been cheated (Kudos to Pierre!!)
Gather your deposit slips, receipts, screenshot of messages of your dealing with Mr Loh Chee Peng
Contact Pierre (J's Auto)

@ 92744999 detailing the situation and any evidence that you have currently

Be patient and give J's Auto some time to sort out the situation and issue
As this is now officially a police matter, we would imagine that there might be certain delays and compliance to jump through.
For future reference, here's how to avoid falling victim to a scam and how to protect your hard earned money:
Always insist on a receipt or invoice for deposit or monies paid
Whenever possible, try to go for shops that have "ready stock" for the items you are looking for
Make sure when making payment, it is made out to the actual company/shop instead of a 3rd party or individual
Visit the shop to make sure that the manager or owner is aware of your business dealings, it is harder to "scam" when there are multiple people and staff involved
Check the review of the person(s) or shop that you are patronising to ensure they have a good track record
So there you go! If you are a victim of this situation at J's Auto, do reach out to Pierre at your earliest convenience so that he is able to get a grasp on the extend of the situation. Do give him some time and understanding however, and trust that all support and cooperation will be given to the police to solve this case.
If you are victim and require assistance, please do state in the comments section below and/or reach out to us via the Contact Us form so that we can assist.
Some bikes modified by J's Auto