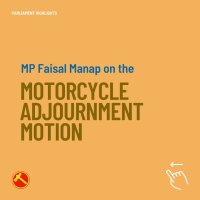 The topic of the COE system for motorcycles in Singapore is all the range these days. With COE prices for Cat D (Motorcycles) holding steady above S$9,000+, this is more than the average machine price of a Class 2B motorcycle. When prices of run-of-the-mill models like that Yamaha NMax 155 has a machine price of ~S$6,000 and the COE being 150% of that, you know that things have gotten out of control.
Join SingaporeBikes on Telegram for the the latest news, special offers, reviews of motorcycles, and more!

For reference, as part of MP Faisal's proposal, the COE trend has been rising over the past 2 decades:
Dec 2001 - S$509
Dec 2011 - S$1,481
Sep 2021 - S$9,689

In his adjournment motion in Parliament on motorcycle ownership, MP Muhamad Faisal Abdul Manap called for the government to make motorcycle ownership more affordable in particular for fellow Singaporeans who are reliant on this mode of transportation for their livelihood.
He raised several proposals such as categorising the COE for Motorcycles into classes according to engine capacity and consider abolishing COE bidding for class 2B motorcycles.

In summary, the 3 proposals put across were:
Break down the categories for motorcycles between Cat D-Class 2B, Cat D-Class 2A, and Cat D-Class 2. We're not sure how feasible this is though as majority of bikes registered are still under the Class 2B segment.
Abolish the COE system for Class 2B motorcycles, but instead move towards a balloting system.
Allow for 5 years COE renewal with no limit on the number of renewals, provided the motorcycle is used primarily for work purposes.
Additional proposals as shown in the slides below



While a good effort, proposals to tweak the COE systems in the past have been rejected by the government and we are still currently in a situation whereby COE prices are near an all-time high. In fact, we recently touch on this is another article published on SingaporeBikes.com:
Do you think the systems proposed above will work? If not, what do you think is a better option?
COE closed today, 4th of November 2021, with a slight rise and is still above the S$9,000 mark. Let us know your thoughts in the comments section below!