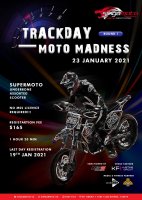 With the border closures, and also with Pasir Gudang track being shut indefinitely, it's been a tough few months for all trackies that are stuck in Singapore with no where to let off some steam. Good news though, the Singamoto track day to be held at Kranji KF1 circuit will be coming back next month - on the 23rd of January 2021!
From the organisers - Singamoto:
We are back for the 2021 Singamoto Trackday Moto Madness to be held on the 23rd of January 2021 (Saturday) at KF1 Kranji from 8am-10pm!
NO MSS RACE LICENCE REQUIRED!!
Registration Fee S$165/-
Registration Close: 20th Jan 2021 @ 12.00pm 
1 Rider with 1 Mechanic
1 Hour 20 Minutes of Moto Madness
Click the link below for registration
READ THE TERMS & CONDITIONS before you made any payment.
http://evnk.co/smsgtrackdaymotomadnessrd1
We hope to see you there and burn some rubber!