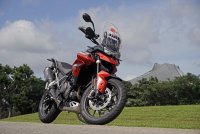 Article by CarBuyer.com.sg, kudos to Deyna Chia for the awesome writeup!
TRIUMPH Motorcycles are distributed exclusively in Singapore by:

Mah Pte Ltd
www.mah.com.sg
Address: 1179 Serangoon Rd, Singapore 328232
Phone: 6295 6393
Contact them today for special deal for SingaporeBikes.com members!

This is Triumph's new Tiger 900, and if you've never looked at the Tiger before, or don't know what it is, this might be the best time to change your perspective because the Tiger has changed much more than its stripes. 
Like the preponderance of SUVs in Singapore, adventure bikes have dominated motorcycle sales in recent years. As a result, you can get off-road styled bikes of every shape and size – even a scooter.
While the Japanese 2A 'light' adventure offerings, such as the Honda CB400X, are the equivalent of an everyman's Honda HR-V, the European mid-weight adventure bike segment is for those who want a bit more of everything, without going full-on safari around town.

The brief here is for a bike that's lithe enough for that intra-city commute through murderous traffic (yes, the jams are back), comfy and tough enough for long distance trips (when it's finally "safe" to ride northwards), and with enough oomph to beat other commuters in the traffic light-to-light dash and more.
This Tiger 900 is totally new, despite the familiar styling cues. Its predecessor, the Tiger 800, was a solid and sometimes stolid choice, first debuting in 2010 and updated twice in its life-cycle (2014, 2018), but it was clear Triumph needed something totally clean-sheet to, well, triumph.

The new bike is made in Thailand, and like some Ducatis, as well as cars from the Land of Smiles (and more protests), that's not a problem – in fact it's the opposite. 
The build quality of the Tiger 900 is visibly up two notches over the Tiger 800. For example the silver segments on the fairing are painted-on, not stickers, encased in a generous thick layer of clear coat. Sporting an all-new chassis, subframe and suspension,  smaller headlight (LED lighting with daytime running lights, complete with removable headlight protector) and revised fairing. 


As usual with the Tiger models, there's a dizzying array of versions to choose from. In Singapore the lineup consists of the entry-level Tiger 850 Sport, then the 900 models: GT Low, GT Pro, and Rally Pro. The GT models being road-centred, and the Rally models being more 'proper' adventure and off-road ready. The model ridden here is the GT Low, which is almost 50mm lower than the standard model thanks to the seat and unique suspension layout.
Compare that to the 800mm-plus seat height of other adventure bikes, and the Tiger makes a much easier time of it with no tiptoeing, and pushing it is relatively easy too thanks to its 194kg wet weight, and 5kg lighter than the Tiger 800.

While we don't usually need to opt for shorter seats, being 1.8-metres tall, we can see how the GT Low would be a boon for riders of a smaller stature. The seat has two height settings – 760mm and 780mm – and we chose to set the seat in the "high" position, and this meant full sole contact on the ground and bent knees.

Unexpectedly, we found the sitting position to be ergonomic, with no complaints from the knees, the 10mm narrower handlebars (complete with handlebar guards) positioned just right, resulting in a neutral, neither sit-in nor sit-on position. The riding position allowed for easy steering, so easy in fact, the bike responded really well to successive left-right-left flicks. So quick and so composed, the Tiger 900 felt much like the Street Triple – and that's saying a lot!
The more powerful three-cylinder engine is certainly responsible for that too, the new 900cc unit is Euro V compliant, producing 10 percent more torque (87Nm at 7,250rpm) and nine percent more power in the mid-range rpm, but with the same peak power of 94hp at 8,750rpm.

That translates to more power and better acceleration all-round, and is enjoyably punchy. The Tiger 900's engine pulls really hard from 4,000 to 4,800rpm, tapers, then picks up again from 5200rpm to 7000rpm, even in sixth. The fly-by-wire throttle is seamless, reducing the usual lurching when rolling-off and getting on the throttle again immediately.

On the downside, there was some buzziness from the engine, especially above 6,000rpm, possibly a result of the new firing order, which also makes the bike sound more like a parallel twin than the much-loved Triumph triple burble/whine. 
What I found unusual was buzziness in the engine, particularly above 6000rpm, apparently a result of the new 1,3,2 firing order, a departure from the 120 degree configuration from the earlier engines. Aurally, the Tiger 900 sounds more like a Yamaha TDM with its 270 degree parallel twin, i.e. sounding more "twin" like than the classic Triumph "triple" exhaust note. Even the characteristic high pitch whine is now muted. 

It was happy leaning to a considerable 40+ degrees, at which point the adventure-sized 19-inch front wheel would require more, perhaps excessive, handlebar input to increase lean angle. Tackling sweepers spiritedly would also cause a bit of rear wheel bobbing (evident by tyre wear), a characteristic of softly-sprung adventure bikes, but we were able to mitigate that by increasing the preload a few clicks.
As for non-spirited daily riding, the Triumph's broad power band, agile handling, and low seat make easy work of the urban jungle, and without panniers the bike's not particularly broad either. The GT Low doesn't have an up-down quickshifter, available as an option, and standard on the GT Pro and Rally Pro. We did notice that there was some heat directed at the right knee, though if you don't wear shorts, nor spend 15 minutes on end in traffic it shouldn't be a problem.   

Like any self-respecting Euro adventure bike now, the Tiger's brimming with technology on all fronts, and it is quite well-specced. 
On the safety front, Brembo Stylema front brakes deliver good power and feel, even with one finger, and that's helped along by riding modes (Rain, Road, Sport, Off-Road) and a new optimized cornering ABS and traction control, with IMU (inertia measurement unit).

The Tiger 900 now sports a 7.0-inch TFT display for a dashboard, which apart from having four layout styles to choose from, also includes a half screen Turn-by-Turn navigation, which requires option hardware, and operation via the My Triumph app.
Triumph has clearly thought this through, since a waterproof handphone compartment complete with charging capability is provided under the passenger seat. Additionally, the battery is now accessible under the rider's seat by simple removal of a plastic shroud.

Underseat phone charger is a nifty feature

In competition, the BMW F 850 GS and Ducati Multistrada 950 are the closest, with a similar size, spec, though you pay more for the premium badge of course. Like Triumph always does, the Tiger 900 offers lots of bang for the buck in comparison. 
If we were in the market for an adventure bike agile enough for daily commute, long tank range (each fill up is good for 350km), characterful engine and exhaust note, at a price tag reflective of the world economy, the Tiger 900 would be on that short-list without a doubt. 

TRIUMPH Motorcycles are distributed exclusively in Singapore by:

Mah Pte Ltd
www.mah.com.sg
Address: 1179 Serangoon Rd, Singapore 328232
Phone: 6295 6393
Contact them today for special deal for SingaporeBikes.com members!
Triumph Tiger 900 GT 
Engine    888cc, inline 3
Power    94hp at 8750rpm
Torque    87Nm at 7250rpm
Gearbox    6-speed manual 
0-100km/h    Not quoted 
Top Speed    Not quoted
Wet Weight    198kg 
Seat Height     760-780mm
Agent    Mah Motors (www.mah.com.sg)
Price     S$29,419.05 machine price
Availability    Now
Verdict     Feature-packed, well rounded middle-weight adventure bike that handles like its highly regarded brethren, now accessible to a wider audience.