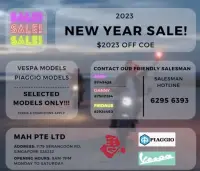 Mah Pte Ltd: 2023 New Year Sale on VESPA & PIAGGIO MODELS
Mah Pte Ltd is having a sale till end of January 2023!!!
What's even better? $2023 OFF COE this New Year
Hurry Come down now and book your dream bike that you have been wanting to own!!
Mah Pte Ltd
1179 Serangoon Rd, Singapore 328232
Send us a chat during office hours, or drop our friendly salesperson a message 24/7 to know more!
Amin: +65 9114 9428
Megan: +65 8533 3462
Danny: +65 8750 2254