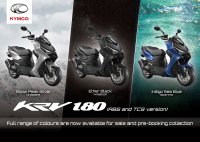 The Kymco KRV 180's debut at the Beijing Auto Show 2021 seems to be the first bit of inspiring news to come out of the automaker in the last year and a half. Now this scooter is a bit of a departure from the company's better known X-Town line of maxi scooters, instead taking inspiration from the Taiwanese company's largest twin-cylinder offering, the AK 550. What you get with the brand new Kymco KRV 180 is a mean-looking, sporty, underslung body with one of the most powerful Class 2B engines around.

If you've been riding for the past 10 years or so, you would undoubtedly recognise the Gilera Runner ST200 as one of the most popular Class 2B scooters around. There is reason behind it's immense popularity though, that being, it packaged a very powerful engine, into an easy to maintain, small body which is nimble enough to be used on the roads of Singapore. As the years passed on however, the Gilera became less commonplace on the roads as there were no new models launched and if you look at the context of the Class 2B scooter market today, the reigning king would definitely be the Yamaha NMax 155 followed by the Honda PCX 150.
KYMCO Singapore authorised distributor: Motor Sport Pte Ltd

KYMCO Singapore
Blk 3006 Ubi Road 1, #01-350, Singapore 408700
Tel: +65 6281 9778
Kymco Singapore, through their exclusive distributor Motor Sport Pte Ltd - are now looking to this specific market segment and have thrown their hats into the ring with the all new Kymco KRV 180. Taking the DNA from the larger scooters from Kymco's already very well-established range, the KRV 180 does have all the makings required for it to be a runaway success here in our local context.

Some of the design cues borrowed from the AK 550, such as the sharp, split LED headlights with LED DRLs and edgy body panels, are obvious. But the similarities extend under the skin as well. Unlike traditional scooters, there's no underbone chassis here. Instead, just like the AK, the KRV uses a lightweight twin-spar frame along with a motorcycle-like swingarm, and the engine mounted in the centre, sending drive to the rear wheel through an exposed belt drive.
This should really help with overall weight distribution as well as reduce unsprung mass, which combined with its right-side-up front fork, rear monoshock and 13-inch wheels shod with 110/70-13 rubber at the front and 130/70-13 at the rear, should really make for a compelling handling package.

The motor itself is a 175cc liquid-cooled, 4-valve, single-cylinder mill putting out about 17PS @ 8000rpm and 15.5Nm @ 6500rpm. To put that into context, that's more power and torque than you currently get from the Yamaha NMax and Honda PCX. More interestingly, it also gets switchable traction control as an option.
What makes this KRV 180 really stand apart from the more conventional maxi scooters is its flat footboard; stepped, but not split, seat; exposed handlebar and the lack of a large windshield. To be honest, this sort of design is right up our alley and lends the KRV a distinctly sporty style compared to other maxi scooters.
It's a fairly featured packed scooter as well, equipped with disc brakes at both ends with ABS, LED lighting all around, fully digital instrument cluster, dual USB charging ports and a keyless start system that gets a central knob for locking/unlocking the scooter, underseat storage as well as the external fuel filler cap. And speaking of the underseat storage, it looks fairly cavernous and should swallow a proper full-face helmet whole.

The Kymco KRV 180 is now available for booking from local distributor - Motor Sport Pte Ltd (Kymco Singapore). With enough traction, you'd soon be seeing many of these on the roads as one of the most bang for your buck scooters there is available!
Stay tune for a full first ride and review to come to SingaporeBikes.com!