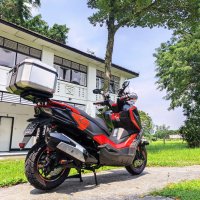 During the end of 2020, the Kymco motorcycle company announced a plethora of new motorcycles that will be hitting the global stage in 2021 as they seek to strengthen their line-up and solidify their standing as the #1 motorcycle and scooter company that is based in Taiwan. Most of you would know of household names like Yamaha, Honda, Suzuki, and the likes as these companies have long supplied economical scooters to all edges of Asia over the past few decades but what you might not know is that Kymco in itself is also amongst the leading motorcycle and scooter manufacturer in the world.
KYMCO Singapore authorised distributor: Motorsport Pte Ltd

KYMCO Singapore
Blk 3006 Ubi Road 1, #01-350, Singapore 408700
Tel: +65 6281 9778

Join SingaporeBikes on Telegram for the the latest news, special offers, reviews of motorcycles, and more!

Kymco started out life manufacturing parts for Honda and was basically the OEM for Honda motorcycles in the region. As the years went on, Kymco started producing motorcycles of their own, and unlike many other brands, have seek to continuously improve upon their designs and technology and placing build quality above all else, it is little wonder why the brand has continued to grow from strength to strength in recent years.

During their last press conference, Kymco debuted the Kymco KRV 180, the Kymco DT X360, and lastly their electric scooter, the Kymco F9. We reviewed the Kymco KRV 180 recently and was blown away as this was the first time we have seen a manufacturer think outside of the box for a simple Class 2B scooter and thrown at it all the technological advances and equipment from much larger scooters. If you missed our review the last time around, you can read all about the Kymco KRV 180 here:

The other internal combusted engine scooter to be announced at the global press conference was the DT X360. At first glance, you might wonder if this is just another run-of-the-mill scooter coming out of the Taiwanese manufacturer. However, when you start to read further into the details, you would see that Kymco has actually positioned the DT X360 slightly apart from its competition but making it an "Adventure Crossover" with knobby tyres and a higher ride height for those off-road adventures that you might want to go on once lockdown is over. This slight, albeit significant tweak, has actually allowed the Kymco DT X360 to be a dual-purpose scooter instead of just being a boring daily commuter.

For those scooter aficionados, you might think "Hey! Isn't that very similar to the Honda X-ADV?". Why yes, the concept is roughly similar. But the X-ADV packs a much larger engine, comes in at a much higher price point, and would cost quite a fair bit more to run. The DT X360, although having the features and functionalities to cross 2 segments of the market, is priced LOWER than its competitors. This is a not a result of cost cutting or poor build quality as we have seen over our 2 days test with the scooter, but rather, Kymco has priced this scooter at a more affordable and bang for your buck price point to ensure that this new product actually get into the hands of consumers and a better product can be offered into the market.

Quoting the press release:
Quote

KYMCO DT X360, the World's First "Adventure Crossover" Maxi Scooter, Encourages Riders to Seek Adventures

Many people believe that scooters are meant to be used for city mobility. They also assume that scooter riders just want to use their vehicles as part of their daily routines. Yet, scooter riders, in fact, also pursue diverse experiences in their lives. Underneath the surface lie urban riders' unfulfilled quests to occasionally get out of their comfort zone and to expand their horizons in all directions.

With more than half a century of dedication to creating innovative products that exceed customers' expectations, KYMCO introduces DT X360, a maxi scooter that demonstrates KYMCO's latest innovation of "Adventure Crossover" and provides riders with the freedom to seek the adventures they desire in their everyday lives.

KYMCO DT X360 features the upright proportions and the front mudguard that characterize the spirit of a dual sport motorcycle. It has a wider handlebar for easy steering on uneven pavement and a higher seating position that improves rider visibility. The light-weight wheels and the adventure oriented tires further enhance its ability to ride through rough surfaces.

In addition, DT X360 comes with a keyless system that offers convenient access to the vehicle. It also has a traction control system that greatly increases vehicle stability in all conditions. The color LED dashboard is designed to provide maximum legibility. Together, it offers the all-around capability for riders to easily maneuver in urban traffic, comfortably cruise on the freeway and confidently explore the uncharted when desired

Engine & Power Specifications
Incorrectly rumoured to be powered by the AK550 parallel-twin engine when the rumour mills starting spinning, the bike turns out to be a four-valve liquid-cooled single of 320cc in size. It produces a claimed 29bhp and 22lb-ft of torque and comes equipped with traction control. Keyless ignition comes as standard on the model, along with full LED lighting and a full colour dash.

Power was decent and quick to react, and what we especially like was that the throttle response was almost instantaneous with no free-play in the throttle at all. This seems to be a common problem across many bikes that we have tested and in fact, it is so bad in the Ducatis that there are aftermarket companies provided fixes for this 'loose throttle' issue. We are glad to report however, that there is no such issue for the Kymco DT X360.

Powerband was smooth throughout the entire rev-range and for Singapore's roads, it is more than sufficient. The engine is also very well balanced and even without heavy bar-end balancers, we did not feel much vibration even at speeds above 100km/h.

Chassis & Handling
Chassis-wise, the DT X360 is shod with 14" front wheel and a 13" rear, both are fitted with semi-knobbly adventure-spec tyres. The fuel tank is 12.5l in size, while the cavernous under-seat compartment allows for two full-face lids to be carried. The bike looks to have a very commanding riding position, with the 800mm seat and wide handlebars helping to finish off the adventure look. The kerb-weight for the new bike comes in at 194kg, making it a significantly lighter that most other Crossovers and off-road motorcycles, making it relatively easy to handle.

Although the seat height of 800mm might seem high for some, as the seat is slightly narrower than that of a Yamaha XMax 300 and Honda Forza 350, we found it easier to flat-foot and touch the ground. Both rider and passenger felt no discomfort over long distances and the scooter felt extremely planted, even on wet roads.
Brakes & Suspension
To handle the braking duties, the Kymco DT X360 is equipped with disc brakes on both the front and rear wheels, along with switchable traction control and ABS for better handling on the roads.

Suspension duties on the two-wheeler are taken care of by telescopic forks on the front side and twin springs on the rear end. The unit that we had for our test ride included upgraded YSS Suspension system provided by Motorsport Pte Ltd's sister company - Chong Aik International Pte Ltd, who are the exclusive distributors for YSS Suspensions here in Singapore.

Colours, Availability & Price
KYMCO Singapore authorised distributor: Motorsport Pte Ltd

KYMCO Singapore
Blk 3006 Ubi Road 1, #01-350, Singapore 408700
Tel: +65 6281 9778
The Kymco DT X360 is currently available in Singapore and there are ready stock for this brand new Class 2A maxi scooter at Motorsport Pte Ltd.
The Singapore market will get 2 colour options:
Orange/Black (Our test scooter)
Silver Crystal/Black
Join SingaporeBikes on Telegram for the the latest news, special offers, reviews of motorcycles, and more!


Pricing is TBA and full specifications are listed down below:

P.S. Test bike provided to SingaporeBikes.com from Motorsport Pte Ltd comes with additional accessories and parts not on a stock Kymco DT X360.
If you prefer a video version of this review, check out the video from our good friends @TRI333PLE for their review on the Kymco DT X360.