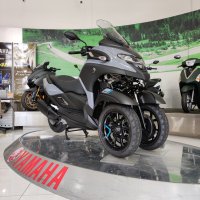 First there was Tricity, then Niken and now Yamaha has released the Tricity 300, essentially a big luxo version of Tricity, at a half-way house price. Think of the Tricity 300 as a three-wheeled maxiscooter. It dwarfs the baby Tricity 155 and is also 90kg heavier. Because it can topple over at rest, it has a Standing Assist button. This prevents it from leaning when stopped, so you can sit feet up at the lights, which car drivers behind won't quite believe. Hit the gas again and the verticality device cancels automatically.

Two front wheels confer advantages like better front end grip and stopping power and the original Tricity 155 appealed to a very specific group of riders who wanted all the enjoyment and ease of use of riding a scooter, but more grip than a conventional 2-wheel bike.

Bikes like Tricity help to get folks out of motorcars and onto a more compact conveyance to reduce congestion and emissions. This Tricity although in a larger Class 2A format can lane split like a bike but you need to take care. Up front, however, four fork tubes flatten the bumps much better.

We expect the Tricity 300, which is now available for viewing at Yamaha's exclusive agent Hong Leong Corporation Pte Ltd, to be priced similarly to the 400-500cc maxiscooters, even if the engine isn't as sizeable (292cc, 21kW/29Nm). Just for your context, the Yamaha Tricity 155 has a machine price of S$8,000 (before COE and other fees) and we expect this 300 variant to cost about 50% more).

Moreover, everything is doubled up at the front adding weight, cost and complexity. The original Tricity, a 155, weighed about 150kg; this is 236kg which weighs upon it literally. It takes 14sec to reach 100km/h, and twice that for an 80-120 overtake. You therefore need to pick passing opportunities judiciously. But it cruises effortlessly at 100, using 3.5L/100km on the flat, for a range of 300-350km from its 13L tank. A full tank of RON95 petrol will run you about S$30 if you run the fuel tank dry.

With larger scooters, CVTs can cause vibration under power, something you notice here. While Tricity 300 handles the open road okay, it's best on smoother surfaces; it can get a bit of a wallow on through bump-strewn corners. Round town, the Tricity 300 really feels at home, the acceleration off the mark sprightly up to 50km/h.

The added grip of an extra wheel up front gives it outstanding road holding. If you are brave enough, you can lean this machine right up to 42 degrees, to scrape the standard-fit centre stand. That's front end confidence for you and what normal scooters can't do!

Stopping ability also improves thanks to a greater contact patch. The 300 features unified brakes. Hit the rear one and you get a bit of front stopping power as well.
Another benefit of that bluff front end is weather protection which is fabulous, even in heavy rain. The big screen is sorted too; no noises, no buffeting. It even clears water off your visor efficiently.

The 300's a practical thing, able to gobble just about any full face helmet and backpack under the seat (43.5L), so supermarket shop-ups for one are on the cards. A proximity key (or rather, keyless!) is a nice feature too. You can operate the rotary switch that locks the steering, opens the seat, and fires the ignition without slotting the key into anything.

At the price range that it is, there is nothing quite comparable to the Tricity 300. If you are not adamant about having 2 wheels at the front, then you might consider this Tricity 300 to be an expensive means of achieving added front end stability that some might not need. For S$9,800 machine price - you can buy much the same thing minus the front end sophistication that is the XMax 300.

It weighs just 180kg, so will be livelier all round, and cheaper to run. It even has TC as standard. Or if you don't need the extra power, you could even just opt for the Class 2B version - Tricity 155 that comes in at S$8,000 machine price. That being said, we've seen more than once on the SingaporeBikes.com forum where someone has been looking to purchase a Tricity 300 so this bike does definitely appeal to some out there.    


        
Furthermore, this new 2021 Tricity 300 version gets an LED headlight and also has a pointless parking brake. The Yamaha Tricity 155 isn't as sophisticated up front as the 300 and out of town it doesn't deal with sharp bumps as well due to its wheels not being as big (13" vs 14"). However, it is easier to mount, with much lower set foot boards. It too has linked brakes that work nicely, and being lighter you don't need to bring as much lever pressure to bring the bike to a stop.
Yamaha's Singapore authorised distributor:

Hong Leong Corporation - Yamaha Motor Singapore
Address: 178 Paya Lebar Rd, Singapore 409030
Phone: 6749 0588

 WhatsApp to ENQUIRE now! Special price for SBF members! 

All in all however, this is definitely a very unique bike and if you're lucky the good guys at Hong Leong Corporation might just let it take it for a test ride! More power, more grip, more features, but is the higher price tag worth it? Let us know in the comments section below!