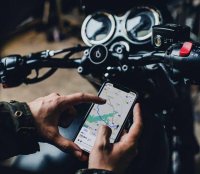 At the recent launch event of the all new 2021 Triumph Speed Twin, there was another new product category that Triumph Motorcycles UK launched as well - although not being a brand new motorcycle, the pick-up rate through the media circles were not as vast. Fret not though, over here at SingaporeBikes.com - we will be sharing with you this latest bit of technology gadget that Triumph owners can look forward to using on their motorcycles.

At the time of this press release however, the Triumph Beeline device, app, and mapping services are not yet available for the South-East Asia market (that includes Singapore, Malaysia and Thailand for all you overlanders out there) but expect the adoption to come some time in the near future.
The Triumph Beeline device currently support markets in UK, Europe, USA, Canada, Australia, New Zealand, and Japan.
TRIUMPH Motorcycles are distributed exclusively in Singapore by:

Mah Pte Ltd
www.mah.com.sg
Address: 1179 Serangoon Rd, Singapore 328232
Phone: 6295 6393
Contact them today for special deal for SingaporeBikes.com members!
Direct from Triumph's press release, it states about the Triumph Beeline:
"A new collaboration between Triumph and Beeline, the award-winning navigation brand, brings you a dedicated Beeline navigation system in a unique Triumph-branded package. Designed to give Triumph riders all the benefits of this incredibly easy to use and elegant navigation system, with a minimal, stylish, and robust alloy design. Perfect for all Triumph motorcycles, particularly the iconic Bonneville modern classic range."

First things first, the purists amongst you may ponder why a motorcyclist would need a sat-nav, often it's part of the fun getting lost on roads with a vague idea of knowing where you need to be. 
But that's the beauty of the Beeline system - by connecting the machined alloy unit to the Beeline app on your smartphone, you can set your destination and press go for pointers in the right direction. Setting the navigation mode to 'route' will give clear turn-by-turn instructions to follow, or 'compass' with an arrow to give you location of your pre-determined location. 

It's all visual cues (no audio alerts), with a clear backlit display doing all the proverbial talking. The unit can also be used as a speedometer, clock, and trip computer with route tracking & sharing. Your rides are stored on the Beeline app, so you can view your routes after the ride to see where you ended up going - and how many miles you covered. 
Securely mounted to any motorcycle with quick-release twist-lock system, the unit comes as standard with a universal elasticated strap mount to fit any handlebar setup. You can also choose to buy wing-mirror mounts, permanent bar mounts or choose a sticky-pad mount for the IP67 waterproof Beeline unit to live on, too.

With genuine 30-hour battery life, the unit can be charged with the USB charging cable that it comes with, with a 2-year out-of-the-box warranty (1 year more than the standard unit) with free lifetime app & software updates. 
Once the Triumph Beeline is available in Singapore, we'd be sure to reach out to Mah Pte Ltd for a test unit!
Specs & Features:
30-hour battery life
2-year warranty
Free lifetime app and software update
USB charging cable
Elasticated strap mount and quick start guide included
Speedometer, clock, and trip computer
Route tracking and sharing
Metric and imperial information options
GPX route import option