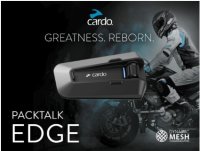 Presenting Cardo's New Flagship The Packtalk EDGE 2022. Here's Why There Is No Second Best!

              When we were contacted by Chong Aik (the official Cardo distributor here in Singapore) in the early part of the year to do a launch review for their new Freecom X and Spirit line of Bluetooth communicators, we were very excited because while the tech was improving, offers from the big boys Cardo and Sena were taking awhile to be launched. 
Check out our review of the Freecom X and Spirit range here:

              Something missing from that launch however, was an update to Cardo's flagship – the Packtalk BOLD. Having used the Packtalk BOLD for the last 3 years, this impressive piece of kit from the Israel-based company could use with some improvements to keep up with today's technology. Fortunately for us, the disappoint did not last long as just a couple of months after the launch of Cardo's budget and mid-tier range, they announced the replacement for the Packtalk BOLD, aptly named the Packtalk EDGE.

WHY CARDO?
Having bikers choose the best comms system on the market is like asking Japanese fanboys if they prefer Honda or Yamaha motorcycles. You will get a different answer depending on who you ask. However, we here at SingaporeBikes.com prefer to take a more technical approach, study the market, and do our in-depth and independent review and analysis. Let us hit you with some facts.

              Although Sena has numerous more integrations with Helmet manufacturers such as Shoei and HJC, majority of bikers that we know, YouTubers, Moto-vloggers, are using Cardo.
              Do a quick search on YouTube for Cardo VS Sena and make your own deduction, we see an overwhelming majority promoting Cardo after testing it out in the field.
              A recent poll done on "What Bluetooth Comms should I get?" in local Facebook Group 2Wheelers.SG, again an over-whelming majority recommended Cardo.

              The age old saying of buy the brand that most of your riding buddies are using – Over 30% of riders polled (141 riders) are using the Cardo Packtalk BOLD series (note this was before the launch of the Packtalk EDGE):

THE NEW 2022 CARDO PACKTALK EDGE
              Touting the latest technology, ease of use, and improved capabilities all around – Cardo launched the Packtalk EDGE via their YouTube channel with a launch video. If you have a couple of minutes, it's well worth watching – Or if you prefer reading rather than watching, scroll down below as we summaries the highlights for you:
New and improved slimmer design

Air-mount for easy slip on used

USB-C type charging

13 hours of usage before requiring a charge

Latest Bluetooth 5.2 technology

Cardo Mesh 2.0 for better hand-on/off

Over-The-Air (OTA) firmware updates

              As you can see from the list above – the Cardo Packtalk EDGE took everything that was great about the Packtalk BOLD and made it even better. Things that were slightly lacking like the USB-C cable and OTA updates were added into the Packtalk EDGE greatly improving its ease of use. Imagine having just 1 cable for your phone, powerbank, and Cardo comms unit (provided you use an Android) and also not having to plug your comms unit into your PC everytime you want to do a firmware update!
              Having upgraded from the BOLD to the EDGE after 3 years, this is such a vast improvement! One point to note is that Cardo does not claim any increase in range over the previous flagship, but states that the EDGE is able to reach the same range WITHOUT the pop-up antenna that you get on the Packtalk BOLD.
UNBOXING THE 2022 CARDO PACKTALK EDGE

              The Packtalk EDGE comes with everything you could expect from a Bluetooth communicator system. All EDGE units come with 40mm JBL speakers that fits nicely within the cut-outs of most helmet brands, and it also comes with 2 sets of microphones – one wired and one boom mic depending on whether you are using an open-face or full-face helmet. The instruction manuals, first use guide and stickers are Cardo's usual high standards and it also includes a variety of tape, Velcro, and even alcohol wipes to make sure that you install is as neat and tidy as they come!
              As with all Cardo units, if you have multiple helmets (who doesn't am I right?) – You will be able to purchase a Packtalk EDGE 2nd Helmet Kit where it comes with just the cradle, mics, and speakers so that you can easily move your Packtalk EDGE easily from one helmet to another.

LIVING WITH THE CARDO PACKTALK EDGE – DAILY USABILITY
              Before we get on to that, if you don't have a comms system currently, I highly recommend that you get one. I've been telling my riding kakis that one of the greatest improvements in my quality of life as a biker is first testing out comms system more than 5 years ago. The ability to chat to your friends during group rides, listen to music, answer phone calls, scroll through Spotify, all without using my hands as the Cardo has EXCELLENT voice commands – has completely changed the enjoyment of riding a motorcycle.

              In full transparency, we actually received the test unit from Chong Aik some time in March 2022. Sure it would have been great to be first to market with a review of the Packtalk EDGE but we wanted to make sure that we tested the unit to its limits, drained the battery multiple times, used it in all weather, and also head North on the NSH to test the range limits of the new unit.
              Here, we'll summarise some things we've found and hopefully this will help you make the decision when you are looking to purchase you next comms system.
USB-C – This is a god-send. If you're an Android user like me, having ONE cable to everything is amazing. The older Packtalk BOLD was utilising the older micro-USB standard and when going touring this can be a bit troublesome as we had to pack multiple cables.
Air-Mount – Now this was a controversial one. Before we received the units from Chong Aik and just looking at launch videos available online, I was quick to dismiss the air-mount as nothing more than a marketing gimmick and my mind was worried on how sturdy the "Air-Mount" would be. How wrong was I. Testing the unit in real life, the air-mount after it was attached was even STURDIER than the clip in system of the older Packtalk BOLD units! It took more effort to remove once the EDGE was placed into the cradle. But what's even better is the look on your friend's face during the start of a ride when he is struggling to clip in his Packtalk BOLD and you just "magically" throw your EDGE towards the cradle and it find its own way home. AMAZING piece of kit from Cardo!


Range & Battery Life – In this aspect, they are comparable with the older units and Cardo makes no claim otherwise. Realistically, there is only so much transmit power you can put into a unit the size of a Bluetooth communicator and to be fair, the Packtalk EDGE is even slimmer than the Packtalk BOLD but manages to pack the same amount of range and battery life. Fast-charging is now available on the EDGE and we manage to charge the unit from completely empty to full in approximately 2 hours using the supplied cable. YMMV depending on the wattage of your adapter.
OTA software updates – While firmware updates are not all that frequent, they do happen. For previous units you had to plug the device into your PC, download the Cardo software and go through the update there. Sena had a slightly better process but still not tall that elegant. While you could 'technically' update the firmware over the air, you had to connect the unit to WiFi, and do the update through your phone using the same WiFi network. With the new Packtalk EGDE (and in-fact the Spirit and Freecom X line as well) – All you have to do is open the app and everything is taken care of. No fussing with connecting to WiFi or messy cables.
SO IS THE CARDO PACKTALK EDGE STILL THE KING OF BLUETOOTH COMMUNICATORS?
              Well, the short and simple answer is yes. If you're looking for something other than entry-level unbranded units from China that retail around the S$60 price range, there really is no other competition. Sena will have a bit of catching up to do now that Cardo has launched the Packtalk EDGE and it will be interesting to see what Sena launches to even come close to the Packtalk EDGE.

              Do your research, watch YouTube reviews, and scour the web for reviews on the Packtalk EDGE such as this and make your own decision. The Packtalk EDGE makes that decision an easy one as honestly nothing else comes close.
              Chong Aik is having a launch promotion now on the Packtalk EDGE and the DUO kit (2 units of Packtalk EDGE inside) is going for just S$882! This means that each unit is just S$441. To be honest that is an amazing price as you have competitor units doing much less and selling for more more!
https://www.chongaik.com.sg/home/2648-cardo-intercom-system-packtalk-edge-duo-sound-by-jbl.html

              The original RRP of the DUO pack for the Packtalk EDGE is $980 so the launch promo is about 10% off the RRP. All Cardo products purchased through Chong Aik comes with LOCAL SINGAPORE WARRANTY so you never have to worry when something goes wrong. Also, unlike it competitors, Cardo comms unit are FULLY WATERPROOF.
              If you're looking for a good deal and don't mind not having the latest and greatest, check out the previous 2021's flagship – the Cardo Packtalk BOLD that Chong Aik is also having and offer on, just S$616 for the Duo pack – that's S$308 each!
https://shopee.sg/CARDO-Intercom-System-Packtalk-Bold-Duo-(Sound-by-JBL)-ONGOING-PROMOTION--i.292911042.5348334741?sp_atk=81b4006b-e7ee-40e2-92b5-f3e4de988a6f&xptdk=81b4006b-e7ee-40e2-92b5-f3e4de988a6f
             Thanks to @ChongAik for supplying the test unit and we look forward to more amazing stuff coming out from Cardo! If you're in the market for a comms unit, do give Cardo a try and we can guarantee that you will not be disappointed!
Join SingaporeBikes on Telegram for more of the latest news, special offers, reviews of motorcycles, and more!