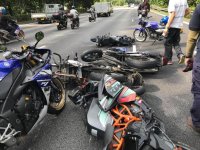 MID-YEAR TRAFFIC SITUATION 2021 FROM TRAFFIC POLICE
Motorcycle Statistics (1st Jan 2021 to 30th June 2021):
Motorcyclist or pillions involved in traffic accident: 56.8%
Motorcyclist or pillions involved in fatalities: 44.8%
Accidents involving motorcyclist: 1,702 (vs 1,546 in 2020) - Increase of 10.1%
Fatalities involving motorcyclist or pillion: 26 (vs 31 in 2020) - Decrease of 16.1%
Injured person(s) from motorcycle: 1,803 (vs 1,631 in 2020) - Increase of 10.5%


Traffic accidents resulting in fatalities and injuries in the first half of 2021 increased when compared to the same period in 2020, partly due to the increased number of road users and vehicles. Drink-driving and speeding-related accidents increased, while the number of red-light running accidents and accidents involving elderly pedestrians decreased. The number of traffic accidents and violations was however still generally lower than the pre-COVID period, due to the lighter traffic volume on the roads as a result of more people staying at home.
While the number of fatal accidents involving elderly pedestrians and motorcyclists has decreased, such accidents remain key concerns as they continue to account for a disproportionate number of traffic accidents resulting in injuries or death.
Road safety is a shared responsibility. All road users must play their part if we are to keep our roads safe. The Traffic Police (TP), together with the Singapore Road Safety Council and other stakeholders, will continue its public education efforts to raise awareness of road safety and encourage road users to play their part in keeping our roads safe. TP will continue to take strong enforcement action against errant motorists who violate traffic rules.
#SingaporePoliceForce #UseYourRoadSense