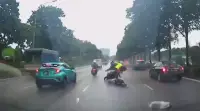 Another day, and another incident which could have been avoided. Unfortunately in this case, 2 motorcyclists were involved in this accident which occurred on the 22nd of December 2020 at approximately 1740 hours. The incident happened along the AYE going towards the city just after Corporation Road.

According to reports on the incident, it was raining at that time and the roads were slippery and due to the rain visibility was also being hampered. Due to traffic building up in front, a motorcyclist was unable to avoid a car due the above situation and unfortunately rear-ended the car in question.
That was not the end of the situation however, as another biker was coming from behind and due to the accident that just happened seconds before, tried his best to avoid the fallen motorcycle and swerved to his left but stuck the fallen motorcyclist instead.
The second motorcyclist then ran over the first one and this propelled him and his machine onto the ground. We are unable to see from the video if they are physically okay immediately but we are all praying that our fallen comrades will recover quickly.
We are sharing this video not to shame the bikers and/or to pinpoint the fault being anyone's, but rather to remind all motorcyclists and bikers to ride safe at all times and to practice defensive riding and be very well aware of your surroundings. Especially towards the end of the year when Singapore enters into the monsoon period and rains are a common sight, it is especially important to maintain a safe following distance and to reduce our speed.
We will check back in with the involved bikers family and update once we hear back on the situation. The silver lining is that both bikers seem to be wearing full protective gear and hopefully this has gone a long way into ensure their injuries (if any) are kept to a minimum.
After watching the video below, what do you think about the situation? Could the accident have been avoided by the second motorcyclist? Or was he just in the wrong place at the wrong time?
Full video below: