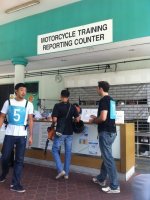 The ComfortDelGro Driving Centre in Ubi, as well as its branch office and service points in Kovan and Tampines, are shut with immediate effect from today, the 15th of July 2021.
"We were informed by the Ministry of Health (MOH) today that there are four Covid-19 cases linked to our driving centre. Accordingly, we have been directed to close our operations for two weeks," Ms Tammy Tan, ComfortDelGro's group chief branding and communications officer, told The Straits Times.
The closure took place with immediate effect, it said in a Facebook post at 5pm.


Statement issued on CDC's website
According to a statement published just hours ago on the homepage of the driving centre that is located in Ubi:
In accordance with the Ministry of Health's directives, ComfortDelGro Driving Centre (Ubi, Kovan and Tampines) will be temporarily closed with immediate effect, from now till 29 July 2021.
Traffic Police Tests
All Theory and Practical tests booked for the period from 4.25pm on 15 July to 29 July 2021 will be cancelled and fees will be refunded by the Traffic Police.
Lesson Cancellation and Refund
All physical lessons (practical, simulator, internal evaluation, eTrial test, 2B circuit training, 2A & 2 orientation, VPC and LDCS) that are scheduled at our Centre from 4.25pm on 15 July to 29 July 2021 will be automatically cancelled and lesson fees will be refunded into your store-value account. Automatic cancellations of these lessons will not affect your cancellation count. Online theory lessons will be conducted as scheduled.
Driver Improvement Point System (DIPs) and Safe Driving Course (SDC)
DIPs and SDC courses scheduled from 16 July to 29 July 2021 will be cancelled and the fees will be refunded into your store-value account. Please check online for the next available date. If you are affected by the Letter of Offer's validity period, please approach the Traffic Police for an extension.
eAppointment
All eAppointments scheduled from now to 29 July 2021 will be cancelled.
Membership extension for School and Private Learners
As a gesture of goodwill, we will also automatically extend the membership of all learners by six months. This applies to all valid school and private learners' membership.
We are deeply sorry for the inconvenience caused and thank you for your understanding and patience as we do the best we can to address your concerns via LiveChat and our online Enquiry Form during this period. We will continue to keep you updated through our Facebook and website should there be further developments.


The ever familiar "Motorcycle Training Reporting Counter"
It is not known if the closure will be extended once contact tracing measures begin and what steps the centre will be taking to disinfect the premises before it re-opens on the 30th of July.
We will update this article as more information is released. If you have friends or family who are currently a leaner rider from CDC, please share this article with them to inform them!
If you would like to know more, you can follow us on SingaporeBikes.com or our Facebook and Instagram to keep up to date with the latest news and happenings in the local motorcycle scene.


Class 2 learner motorcycles located at CDC