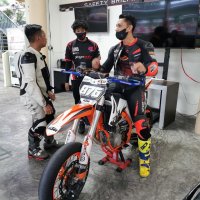 For those of you who have been itching to hit the race tracks once again at Sepang or Pasir Gudang (sadly, RIP) but are unable to do so due to the current COVID-19 restrictions have always been able to find some solace right here in Singapore by attending track days organised by the fantastic team over at SingaMoto.

Just an example of a recent track day time attack battle which they held at the KF1 was held last year in December and we here at SBF have posted the event in our calendar over here. And if you've been meaning to scratch that itch again, fret not because the next one will be held very shortly on the 23rd of January 2021 at the same location. You can RSVP for that event in our event calendar here.

For the layman motorcycle rider however, if race days and high-octane competition is not your thing, we have good news for you! SingaMoto has started a "Members Night Academy" which you can sign up for just S$550 per year and there will be weekly classes held on how to prepare your race bike, how to properly join a race, and many other lessons!

For just the price of a year's membership, you will get exclusive access to weekly track time and personal coaching, discounts of products and services, member's price for races and track-days and much more. If this is something you are keen on, do contact them at  8201 5132 / 9720 4367 and quote "SingaporeBikes.com (SBF)" to let them know we sent you!
SingaMoto has just commenced their first weekly lesson and here are some pictures for your enjoyment!