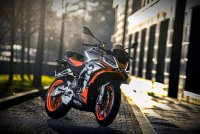 For the past several years, the middleweight naked sportbike class has kept its party going at a fever pitch. Street-ready motorcycles with sporting blood in them have helped keep the motorcycle industry's wheels turning. And ready to shake its moneymaker at this party is the all-new 2021 Aprilia Tuono 660. 
Naked bike enthusiasts have held the Tuono moniker near and dear to their hearts for nearly two decades now. What was originally a stripped-down, sit-up version of the RSV Mille known for effortless wheelies evolved into a stripped-down, sit-up version of the RSV4, also known for effortless wheelies. The Tuono V4 delivers all the thrills and chills of a superbike in a more comfortable package and comfort certainly doesn't diminish capability.

The Aprilia Tuono 660 follows the same principle by taking the Aprilia RS 660 middleweight sportbike, tossing on a set of handlebars, shaving off some plastic and fiddling with geometry to make the RS 660's sporting prowess and technological sophistication even more applicable to the street. There's more to it, of course, but that's the gist.
If you have even a whiff of sport riding inclinations, a design brief like that has already piqued your interest. Now, let me hold your attention: the 659cc parallel-twin is an absolute gem, raring to go with its 270-degree firing order and a raspy exhaust note that will have Tuono V4 owners doing a double-take at bike night. 

Packing a 100 horsepower punch at 11,500 rpm and 50 lb-ft of torque at 10,500 rpm, the final blow to the Tuono 660's competition is its stellar 403-pound wet weight, creating an impressive power-to-weight ratio (all figures claimed). Nearly 80% of the Tuono's torque is available at a low 4,000 rpm, perfect for darting around traffic or lunging out of canyon apexes. It pulls and pulls hard up to around 9,500 rpm, where things level off nicely. 
Crucially, the Tuono's powerplant doesn't overwhelm. It excites, inspires and eggs you on as you dive into and out of corners, but it's one that intermediate riders can handle and advanced riders can fully exploit. Although the 660 twin borrows some design features from Aprilia's V4s, like the varied length intake funnels, electronically operated 48mm throttle bodies, a 13.5:1 compression ratio, an 81mm bore and basic cylinder head design, it is a unique animal and far more approachable. It feels tame at low rpm but revs up freely and energetically, revealing devilish charm to those who heartily twist the throttle.

On the other hand, the Tuono's rubber-mounted footpegs damped the vibration unlike the Aprilia RS660, and the optional up/down quickshifter is excellent — both marked improvements over the RS.
What sets the Aprilia Tuono 660 apart from the crowd is the superbike-derived APRC (Aprilia Performance Ride Control) electronic suite, which includes five throttle maps, 3-level ABS, 3-level traction control, cruise control and engine braking management. There is also an optional Continental IMU that activates cornering ABS, lean-angle-sensitive traction control and cornering headlights.
That being said, the standard electronics worked admirably, stepping in when needed and with predicable levels of intervention. Throttle maps include Commute (mellow), Dynamic (aggressive) and Individual (tailor to your liking). And when you switch from Road to Race on the full-color TFT dash, two more throttle maps appear: Challenge (preset) and Time Attack (customizable), which replace the speedometer with a lap timer.

Based on the RS 660 chassis, the Tuono 660's lightweight twin-spar aluminum frame uses the engine as a stressed member, but it uses two mounting points instead of three to reduce rigidity and enhance response at a street pace. Beyond that, the triple clamp offset is updated, resulting in a slightly steeper 23.9-degree rake for more agility, and the wheelbase is marginally shorter at 54.3 inches.
While the specs suggest a more nimble machine than the RS600, the biggest impact on handling is the upright riding position, wide handlebar and lower footpegs. Once settled into the reasonably comfortable 32.3-inch saddle, the Tuono 660 is a willing partner, ready to be chucked and hustled through every turn with little input. The same can be said at low speeds, thanks to generous lock-to-lock steering — something Tuono V4 owners will envy, for sure.

Another notable change is to the sporty KYB suspension. Still featuring preload and rebound damping adjustment at both ends, the Tuono only allows adjustment in one fork leg, unlike the RS660. The suspenders are set up for the streets and gobble up rough roads like nobody's business while keeping the bike in shape during spirited riding. I'd prefer more compression damping because g-outs can unsettle the otherwise rock-steady chassis, but most riders will be in good shape, and we wouldn't shy away from a rip at the racetrack, either.
Braking hardware is more premium than what you'll find on most middleweight sportbikes, with a pair of Brembo 4-piston front calipers grabbing onto 320mm floating discs and a 2-piston Brembo rear caliper squeezing a 220mm disc, both offering great feel and stopping power. 

Boiled down to its finer points, the Aprilia Tuono 660 takes up an exciting position within the jam-packed middleweight class. On one side are the more affordable, less powerful and less sophisticated Japanese offerings like the Honda CBR600R, Kawasaki Z650 and Yamaha MT-07. On the other side are other European middleweights that, while more comparable to the Tuono's price tag and technology, are on the higher end of the middleweight spectrum, such as the Ducati Monster (937cc), KTM 890 Duke R and Triumph Street Triple 765 R, and thus offer more performance. In between sits the Tuono 660. 
The Tuono 660 and RS660 are essential parts of Aprilia's strategy. They attract new customers to the brand, and they serve as stepping stones to its higher-displacement models. Now Aprilia has middleweight counterparts to its popular, powerful Tuono V4 and RSV4 lineups.

Tuono, which means "thunder" in Italian, is a name that carries serious weight in the naked segment. The new Tuono 660 lives up to the legend while adding a new dimension to the paradigm. Agile, user-friendly, wickedly fun and properly sporty, the 2021 Aprilia Tuono 660 brings a lot to the party.

To take advantage of this deal, head over to Mah Pte Ltd today to look at their range of Aprilia sports bike available and you might just find yourself riding home on a new Italian stallion!

Mah Pte Ltd
www.mah.com.sg
Address: 1179 Serangoon Rd, Singapore 328232
Phone: 6295 6393
2021 Aprilia Tuono 660 Specs:
Base Price: To be advised
Website: www.mah.com.sg
Engine Type: Liquid-cooled, transverse parallel-twin, DOHC w/ 4 valves per cyl.
Displacement: 659cc
Bore x Stroke: 81.0 x 63.9mm
Horsepower: 100 horsepower @ 10,500 rpm (claimed)
Torque: 49.4 lb-ft @ 8,500 rpm (claimed)
Transmission: 6-speed, cable-actuated wet slipper clutch
Final Drive: O-ring chain
Wheelbase: 54.3 in.
Rake/Trail: 23.9 degrees/4.1 in.
Seat Height: 32.3 in.
Wet Weight: 403 lbs. (claimed)
Fuel Capacity: 4.0 gals., last 1.0 gal. warning light on