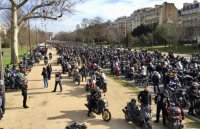 Thousands of motorcyclists in France protested over the weekend against a decision that bans them from squeezing in and out of other vehicles on the roads. The practice has been totally prohibited since February 1st 2021, under penalty of a fine of €135 and three points on the driver's license.
It was in fact not 100% legal in France before February 1, because it had only been authorized "experimentally" on certain roads since 2016. With this new law in place however, the practice is now banned across the country.

Thousands of motorcyclists demonstrated in several cities in France against the ban this weekend, including in Paris, Lille, Toulouse and Lyon. The motorcycles hit the road yesterday after an angry call from the French Federation motorcycle user group.
The ban means that motorcycles must use the roads like a car or any other vehicle, and stay in line.
The practice was permanently banned after the road safety agency Road Safety condemned the trial results of a 'test of lane splitting as "disappointing," after a report showed that the number of motorcycle accidents on the test roads had increased by 12%.

The fixed trial ran on roads in Paris, Bordeaux, Marseille & Lyon from February 1st 2016 to 31st January 2021, and over that time accidents increased by 12 percent on these roads. As a result, lane splitting has been outlawed, and French motorcyclists aren't happy.
What do you think of the introduction of this new law? Nanny state gone too far, or can you understand their reasoning? Either way, make sure you're aware of this change to the rules if you're travelling to France on a biking trip.
Also, if this was to be implemented in Singapore, what do you think the outcome and repercussions will be? Lane splitting has allowed bikers to cut through traffic jams and generally get to their destination ahead of their car-counterparts. If lane-splitting was made illegal, we'd have to be stuck in traffic jams and bear the brunt of the hot sun and rain. Would you then reconsider riding your motorcycle for transport? Let us know your thoughts and comments in the section below!
Check out some of the comments from Twitter from enraged motorcyclist: