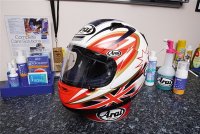 HOW TO CLEAN YOUR MOTORCYCLE HELMET
Innuendos aside here is a step by step guide to cleaning your lid
Step 4: Get wet
Most helmets have at least removable cheek pads, some will have fully removable linings. Once removed, soak them in warm water with a small amount of PH neutral baby shampoo. Massage all the parts thoroughly and then rinse. You'll be horrified at the black slime that comes out. Lay a towel in the bottom of the sink or bath, rest your helmet on the towel and shower it out with warm water. Get the helmet soaked, add a little of the shampoo and work it into everything. Rinse thoroughly with cold water at least five times. Now put the helmet and any wet parts in front of a cool fan for half a day. Don't be tempted to use a hairdryer or the airing cupboard.
Step 5: Visor
Clean your visor with a non-abrasive cloth. Soak it in warm water and rub some mild soap solution into it. Use your fingers to remove the dirt if you can, it will reduce the chances of scratching the surface of your visor. Allow the visor to drip dry naturally, stood up. Take care with your visor if it has an anti-fog coating. Once dry carefully re-apply any anti fog coating.
Step 7: Lube
Lubricate the working parts of your visor mechanism with silicon grease, remember to wipe off any excess to prevent further damaging your helmet. You also need to lubricate the seal around your visor aperture. Do this sparingly and wipe away any excess.
Step 8: Re-assemble
Re-assemble your helmet (carefully). Take your time to reposition your visor properly. Baseplates on most helmets are adjustable, treat it like suspension. Try little and often until you get it right. Clean and replace side pods/covers. Ensure they are all properly reconnected to the shell, if you have any screws left over you have definitely done something wrong.
Step 9: Polish
Once rebuilt, polish the whole helmet with a suitable polish, do the visor as well. A mild abrasive is okay to use on the helmet. Lay it on fairly thick, leave to dry and then buff. A good layer of polish on the shell and visor will help water to bead and roll off easier in the rain.
Article Credits: visordown