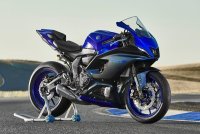 Article credits: Motorcycle News
Who is the new Yamaha R7 for? You could say it's for older riders who've ridden the tidal wave of sportsbike evolution, but want to get off, now that race reps have become too cramped, powerful and expensive. 

Yamaha's Singapore authorised distributor:

Hong Leong Corporation - Yamaha Motor Singapore
Address: 178 Paya Lebar Rd, Singapore 409030
Phone: 6749 0588

 WhatsApp to ENQUIRE now! Special price for SBF members! 

If that's the case, is a 72bhp parallel twin really going to cut the mustard on the road and track, or be enough for bragging rights down the pub?
Or will the R7 be for newer, younger sportsbike fans, who haven't had anything made for them in donkey's years, except for the long-in-the-tooth supersport bikes that now no longer exist for the road? 
But will it give them the kind of thrills we had back in the day when we discovered the joy of our first big bike? One thing's for sure, they won't mind that Yamaha has dug up the old R7 name, or remember it from the first time around, anyway.
In fact, the Yamaha R7 is for everyone and neatly proves you don't always need lots of power and tech to enjoy yourself. 
Sporty, friendly and with a voracious appetite for corners, it's the perfect machine for new riders to start their sportsbike journey when it's full licence time. 
Its relative lack of straight-line performance and basic spec may put some off and the brakes could be better, but the R7 is all about the purity of riding while not scaring yourself silly. It's well built, handsome and comfortable, but best of all affordable: half the price of an R1, twice as fun on the road.
Ride quality & brakes

The R7's tubular steel frame is the same as the MT-07's with more weight shifted to the front for extra feel tipping into corners. New ali side plates around the swingarm pivot to add rigidity.

KYB upside down forks are fully adjustable (rebound in right leg, compression in left) with a cast ali top yoke and forged ali bottom. They're spaced 20mm wider than the MT-07's and 5mm closer to the steering stem. Spring weight (18N/mm) is the same as the R6's. Rake is steeper, from the MT-07's 24.7 to° 23.5° (both run the same 90mm trail) and wheelbase reduced 5mm to 1395mm.
The shock is adjustable for preload and rebound damping (no compression) and fitted with a new rising rate linkage, lifting the rear for a sportier stance.
New four piston front brake calipers are now radially mounted with a 16mm Brembo master cylinder and ABS. Lightweight 10-spoke wheels, taken from the new MT-09 are shod with Bridgestone S22 sports rubber, 120/70 x 17 front and 190/55 x 17.
It's 4kg heavier than the MT-07, thanks to its extra plastics and that's despite a one-litre smaller fuel tank and 1.1kg lighter battery.
The R7 is comfortable…for a sportsbike. Clip-ons are still low to weight the front end and the pegs relatively high to keep them from grazing tarmac, but they're nowhere near as extreme as a traditional race rep. Knees aren't squashed, the seat is generously padded (and 15mm lower than the old R6 perch) and there's decent wind protection. Even the mirrors work well.
Your view down to the cockpit is trademark 'R' and if it wasn't for the fact the R7 feels so light (just 188kg fuelled and ready to go) and nimble, you could be fooled into thinking you were astride an R1 or R6. The top yoke mimics Yamaha's superbike, you get a snazzy 4.5 colour dash and neat, simple switchgear.

Handling-wise the R7 comes from good stock. The MT-07 has always been nicely balanced, if a little bouncy at the limit, but with its beefed-up suspension, brakes, faster steering and fatter, stickier rubber the new Yam is so sure-footed and forgiving there isn't much that's going to get away from you on the road, if you know how to peddle. The R7's superpower is corner speed – letting the brakes off, railing though at full lean and not having too much power to worry about the other side.
Yamaha have honed the R7 so well there's very little to complain about, except the brakes. The hardware is all there: twin discs, powerful four-piston radial calipers and a Brembo master cylinder with a superbike-style adjustable front brake lever, but the way the Japanese firm set their ABS robs the set-up of feel. It's not just the R7 that suffers from this, the all-singing R1's brakes are just as remote and wooden at the lever.
On track the R7 initially feels flat, but bear with it, because the harder you push it the more exciting it becomes. Fit stickier rubber and with more grip than power (and even with its slightly soft rear shock spring), you need to be pushing incredibly hard to make a dent in its abilities. Best of all, without having big power to control you can take liberties with the throttle at big lean angles without worrying about launching yourself to moon.
Riding with other R7 gets laugh out loud emojis floating from your crash helmet, but here's the thing: in the real world that's going to be hard to do. At a trackday you'll always be in with faster bikes, regardless of the group, resulting in the cat and mouse of your corner speed versus their top speed. Sometimes that would be fun, sometimes terrifying.
If trackdays, one day, had groups for these new generation middleweight twins that would be another (extremely entertaining) story and would see the class really take off. If you can't wait for that Yamaha plan to run R7 Cup championships all over the world if you fancy bashing fairings with like-minded lunatics.

You'll be able to race your 2022 Yamaha R7 in the R7 Cup
Engine

Yamaha have left the MT-07's four-valve 689cc parallel twin virtually untouched for its new life in the R7. It still makes [email protected] and 49ftlb of torque at 7750rpm and has a more direct throttle cam, but it slips through Euro5 thanks to new ECU and injection settings, tweaks to the intake ducts and exhaust. 

The six-speed gearbox remains, but now has an 'Assist and Slipper' clutch for a lighter lever action (by a third) and to prevent rear wheel hop into corners. Gearing is slightly taller with a one-tooth smaller rear sprocket (now 42) and combined with its superior aero Yamaha claims an 8% faster top whack than the MT-07. 
We'd expect to see around 130mph when we speed test it.
We reckon the 2022 Yamaha R7 top speed is around 130mph
Unlike a highly strung race rep, everything about the Yamaha easy. The gearbox and clutch are light, accurate and the motor's power is delivered smoothly, even at low-rev town speeds. Its torque curve is so flat and controllable you certainly never miss not having traction control.
Being a Euro5-friendly parallel twin it's exhaust note won't go down as one of the greats, but on the flip side the 270-degree crank gives your ears a nice, dark V-twin-like warble to listen to when it's working hard and is muted enough not to annoy the neighbours when it's not. But stick a race pipe on it and you'll be able to hear it in the next county.
If you're used to something with a lot more power, the Yamaha will feel steady at first and lacks the insane, warp speed punch of a superbike or supersport weapon up top, but that would be missing the point and one of the reasons those monsters don't sell anymore. The joy of riding the R7 comes from welding the throttle to the stop and not slowing down for corners. Think of it like the early 90s 250cc two-strokes and 400cc four-strokes we oldies grew up with or for the yoof: a sharper, moderately more powerful version of your A2 licence bike.

Ride the Yamaha with a bunch of mates on similar sized machines and suddenly sportsbikes become a riot on the road again.
Just like the MT-07 it's based on the R7 punches well above its weight. Keep it singing and you quickly realise 72bhp is more than enough for the road and on track will easily wheelie off the clutch in second, especially with no electronics to get in the way of your fun. 
It's easy to gather speed and keep up momentum, but everything happens more slowly than on a more powerful bike, so it's never taking you for a ride or needs super-human levels of effort, skill and commitment to control.
Reliability & build quality

If it's going to be anything like any of the three-generations of MT-07 that stretch back to 2014, which it is, the R7 will be mechanically bombproof. MCN's owners' reviews give nothing but glowing reports, aside from the occasional spot of rust on swingarm welds and durability of thin paint.
Watch out for thin paint and rust on swingarm welds
Value vs rivals

Yamaha aren't the first to create a more real world sportsbike. Aprilia's RS660 stole the headlines when it was released in 2020.
The Yamaha R7 has plenty of rivals in the real-world sportsbike class
As you'd expect from the company that brought you the RSV4 and Tuono V4 it's a more serious take on the theme. The parallel twin is sharper and more powerful (99bhp) than the R7 and comes with fully adjustable suspension and superbike shaming electronics, but it's also nearly two grand more expensive.
There's also the inline four-cylinder Honda CBR650R and Kawasaki Ninja 650 twin, but neither have the unashamed sporty DNA of the Aprilia or Yamaha.
Equipment

If you're used to the glitz of an all-singing sportsbike the R7's modest level of chassis equipment won't be as tempting as if it had shiny Öhlins, chunky Brembos and a raft of electronics. If it did the price would shoot up and defeat the point of what Yamaha is trying to do.
It may not have all the bells and whistles, but fit, finish and build quality are excellent for the money and looks every inch a mini-me YZR-M1 MotoGP bike with its tank gills, M-shaped central air scoop and slender, angular bodywork that's slipperier than Yamaha's R125, R3 and R1.

You also get ABS and 4.5in colour dash that contains info like speed, gear position and fuel gauge are nicely prominent, but they're hard to read in direct sunlight.
Official Yamaha performance, touring and cosmetic goodies are available, as well as accessory packs, which you can view on their online configurator. Racers and serious trackday riders can also choose from a full range of tasty GYTR accessories as illustrated below.