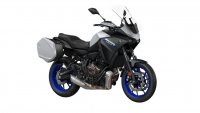 Yamaha has recently announced that the Yamaha Tracer 7 GT will be coming to international markets for 2021, positioned to be the younger sibling to the currently available Yamaha Tracer 9 GT.

The Tracer 7 GT is powered by the same crossplane twin that's found in the MT-07, which has already proven itself to be a fun and capable powerplant. Plopping that mill into an upright touring motorcycle would put a lot of midsize, legacy touring rides currently available like the Versys 650 or V-Strom 650, on high alert. Especially if the bike is competitively priced.

The addition of Yamaha accessories, like side cases, a taller and wider windscreen, and an updated seat, give it some notable credentials that others in the same segment sometimes lack. Add to that the preload- and rebound-adjustable suspension front and rear, and you have a very capable midrange sport-touring bike.

The Tracer 7 GT's engine has also been updated, particularly in light of the fact that Yamaha has given the engine platform the necessary updates to comply with Euro 5 regulations. It'll want to make sure it squeezes as much juice from the engine as possible.

Although details are still scarce, we'll update back once we hear more information from Yamaha themselves or when Hong Leong Corporation (Yamaha Singapore) starts to have an ETA on this motorcycle.
Yamaha Singapore Official Distributor

Hong Leong Corporation - Yamaha Motor Singapore
Address: 178 Paya Lebar Rd, Singapore 409030
Phone: 6749 0588

 Click HERE to ENQUIRE now on ANY Yamaha Motorcycles! Special price for SBF members!