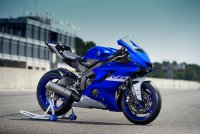 YAMAHA YZF-R6 TO BE DISCONTINUED AFTER THIS YEAR. HOWEVER, THE MODEL WILL LIVE ON AS A NON-HOMOLOGATED TRACK-ONLY YAMAHA R6 "RACE" IN EUROPE.



Introduced in 1999, the Yamaha YZF-R6 scored its maiden victory on only its second outing with Jamie Whitham in the 1999 FIM Supersport World Championship's visit to Donington Park. Since then, the Yamaha R6 has won more wins and championships around the globe than we can count.
Currently, the Yamaha YZF-R6 is offered only in certain markets so this news might be a shock to you if you are from these regions.

Almost 21 years later, Yamaha announces the homologated R6 will be discontinued next year [Confirmed for Europe and US]. This is because of the slash in sales for super sports across the globe since the market is dominated by bigger capacity sports bikes and adventure/touring machines.
"With deep consideration of evolving global market trends and regulations that limit production volumes on certain models, the following Yamaha models will be discontinued after the model year 2020: YZF-R6, VMAX, WR250R and SMAX.

"Yamaha understands the iconic history of these models. Regarding the future, Yamaha is continuously looking at new ideas and concepts to support and expand the market, as well as enhance our customers' experiences."  -Yamaha Motor Corp., U.S.A.
On the other hand, starting next year Euro 5 emission standard will become mandatory for Europe so this makes things even more difficult for Yamaha. However, Yamaha Europe announced they would offer the R6 as a non-homologated track-only bike called the "R6 Race".
SO HOW ABOUT MARKETS OUTSIDE OF EUROPE AND THE US THAT CURRENTLY OFFER THE YZF-R6?
Yamaha hasn't made any announcement for other markets that currently offer the Yamaha YZF-R6.

However, if these markets were to follow the same, we think the ongoing model of the Yamaha YZF-R6 would go on sale until the stocks run out. In fact, the ongoing R6 model would be sold the same way in the US as the Euro 5 compliance is irrelevant.
YAMAHA R6 RACE FOR EUROPE
Yamaha Europe says the R6 Race will go on sale for a race-targeted price for track day participants to national supersport championship contenders.
The Yamaha R6 Race features the same 599cc DOHC liquid-cooled four-cylinder engine that powers the standard R6. In the case of the chassis, the R6 Race gets GP racing developed delta box aluminium frame with balanced magnesium subframe.

Suspension duties are taken care of by high-spec KYB front forks and KYRP rear shock. The R6 Race also includes traction control, a few ride modes and ride by wire Yamaha chip controlled throttle.
Yamaha R6 Race will go on sale in Europe starting January 2021. Yamaha also offers R6 GYTR Kit for their customers to enhance their on-track experience.
The R6 GYTR Kit developed for the R6 RACE includes the following racing parts:
GYTR race cowling set
Akrapovic full race system
GYTR ECU set
GYTR wire harness set
GYTR on/off switch
GYTR Interface cable
GYTR AIS plug set
GYTR ABS emulator
GYTR keyless fuel cap
GYTR seat cushion
Stainless steel brake line set for front and rear
Front brake lever guard
GYTR fully adjustable race rear set with optional reverse shifting kit
Rear sprocket guard (shark fin)
Sprocket drive 14T fits 520 chain conversion
Rear sprocket, 45 fits 520 chain conversion
Sprocket nut set for 520 conversion
DID gold race chain 520 conversion
Rear paddock stand hooks
Paddock stand
In addition to all the R6 GYTR features, Yamaha also offers a range of GYTR and Öhlins components to choose from.
So, what do you think? The Yamaha R6 has been one of the most popular Class 2 sports bike in Singapore due to its good looks and top-of-the-line performance. If the Yamaha R6 is really pulled from production for the Singapore market, what would be the next best choice?

Let us know in the comments below!