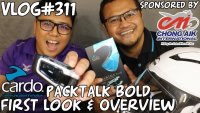 Following up on our 3 part series on what is the flagship product from Cardo, our dear friends over from @Farhan Tre and @ilyazar take to the YouTube screens to do an unboxing, first look, and overview of the Cardo Packtalk Bold - Distributed in Singapore exclusively by Chong Aik International Pte Ltd.
Find out how it helps them on their vlogging journey, riding with friends, and ultimately these communication units will be one of their BEST accessories when the borders finally open and they resume their touring adventures!
If you like what you see and want to get a set for yourself, check out the direct links below to see how you can purchase your very own set today!
You can visit their Shopee links here to purchase and get them delivered right to your doorsteps!
CARDO PACKTALK BOLD (JBL) DUO: https://shopee.sg/CARDO-Intercom-System-Packtalk-Bold-Duo-(Sound-by-JBL)-i.292911042.5348334741?fbclid=IwAR1fusXoLaX4NsLrhBbjeqrC8ItS_AQN4h63J08DC3LXV963P0GMzH_wNO0
As Cardo's SOLE AUTHORISED DISTRIBUTOR in Singapore, Chong Aik provides:

3-Year Warranty (For Packtalk Black)

2-Year Warranty

1-to-1 exchange (For parts deemed faulty not due to wear and tear)
*With proof of purchase: Invoice
Cardo is distributed exclusively in Singapore by Chong Aik International Pte Ltd

45 Desker Road, Singapore 209576
Phone: (+65) 6294 2532/1
Open on: Mon-Fri: 09:00am-06:00pm / Sat: 09:00am-05:00pm
If you've missed the previous review of this awesome communication unit by @TRI333PLE, do check out their video here: