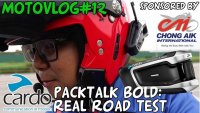 We've all seen reviews online from influencers and bikers on what is their favourite bluetooth comms to use on a day to day basis, but it's not often that these products are tested out in the wild and check back against what the manufacturer claims. @Farhan Tre and @ilyazar have taken it upon themselves to put the Cardo Packtalk BOLD through its paces and find out how it performs.
Find out how it helps them on their vlogging journey, riding with friends, and ultimately these communication units will be one of their BEST accessories when the borders finally open and they resume their touring adventures!
If you like what you see and want to get a set for yourself, check out the direct links below to see how you can purchase your very own set today! At approximately S$300 for 1 set in a duo pack, you can share this with your friend and get the top of the line bluetooth comms system out in the market right now!
You can visit their Shopee links here to purchase and get them delivered right to your doorsteps!
CARDO PACKTALK BOLD (JBL) DUO: https://shopee.sg/CARDO-Intercom-System-Packtalk-Bold-Duo-(Sound-by-JBL)-i.292911042.5348334741?fbclid=IwAR1fusXoLaX4NsLrhBbjeqrC8ItS_AQN4h63J08DC3LXV963P0GMzH_wNO0
As Cardo's SOLE AUTHORISED DISTRIBUTOR in Singapore, Chong Aik provides:
 

3-Year Warranty (For Packtalk Black)

 

2-Year Warranty

 

1-to-1 exchange (For parts deemed faulty not due to wear and tear)
*With proof of purchase: Invoice
Cardo is distributed exclusively in Singapore by Chong Aik International Pte Ltd

45 Desker Road, Singapore 209576
Phone: (+65) 6294 2532/1
Open on: Mon-Fri: 09:00am-06:00pm / Sat: 09:00am-05:00pm