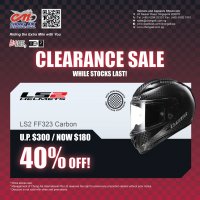 Who doesn't love carbon, especially when it's a FULL CARBON helmet?! Chong Aik is now having a blowout sale on their LS2 and Airoh helmets with discounts up to 40% off.
What this means is if you've been holding off getting a new helmet, and have an immense amount of love for carbon fibre (who doesn't?!) - You can get the LS2 FF323 Carbon Helmet at just S$180, no terms and conditions attached!
During this Circuit Breaker period, Chong Aik is also offering delivery service to your doorstep. Just call them at +65 6297 1059 to find out more! Remember to quote "SingaporeBikes.com (SBF)" to be entitled to this special clearance sale!
Stocks are VERY limited and this offer is only available while stocks last! Please see below for options and price discounts!
Chong Aik International Pte Ltd
45 Desker Road, Singapore 209576
+65 6294 2532/1