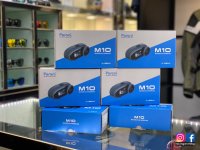 Racing World is back with YET another offer for SingaporeBikes.com members!

This time on offer is the Parani M10 motorcycle bluetooth headset. If you're looking for a no-frills, simple and easy to use value for money headset, this might just be the one for you!
PARANI M10 Motorcycle Bluetooth® Headset (comes with 1 year warranty)
Retail: S$129.90 each
Promo Price (Buddy Deal - 2 units): S$149.90 (That's just S$74.95 each! A massive 42% discount!)
SHOP ONLINE NOW - Click on link below to purchase!
https://www.singaporeracingworld.com/product/parani-m10-motorcycle-bluetooth-intercom-buddy-deal-promotion/
Parani is designed for one thing: to support your ride as seamlessly as possible. It simply offers the essentials to your ride: crisp, clear audio and communication with other Parani users. Riders are guaranteed to have the best experience without breaking the bank. It's all about giving you the control and flexibility you want on your journey.
Find our more information @ https://parani.com/