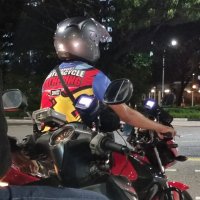 We've heard and seen many instances in newspaper like The Straits Times on how LTA has been trialing a new system for road charges in Singapore, otherwise known as our beloved ERP (electronic road pricing) system. The current ERP units that are almost identical for both cars and motorcycles, will be upgraded to a new system with talks of potential distance-based charging aided by an internal GPS antenna. While LTA has said that it will not effect the distance-based charging during the first phrase, this has worried many delivery riders as it would have a detrimental effect on their earnings.


A group of riders with the new Gen 2 ERP OBU testing at Kallang
The pilot scheme and testing was slated to start in 2020 but due to COVID and the global pandemic, this timeline has been pushed back for the new transition to 2nd-gen based ERP to 2023. LTA however did say that initial batch of installations will start in the 2nd half of 2021 but as we approach Q4, there has not been any news as of yet from LTA.
Just last month however, we spotted a group of motorcycle riders riding around Kallang Leisure Park and what drew our attention immediately were these brightly-lit ERP units that look different from those we are commonly use to. The backlit LCD screen was the immediate giveaway that this was something out of the ordinary. What happened next was that a few more (total 5) motorcycles came up behind and all of these bikes were equipped with the same OBU units on board that we have not seen before.


Close up of the Gen 2 ERP OBU - Apologies for the grainy picture!
Checking back on past news articles, these ERP OBU units do look extremely similar to pictures released by LTA in the past on what the new ERP OBU would look like, thus, we made the assumption, and conclusion, that these were a group of riders, hired by LTA to test the units on public roads. Unfortunately as soon as we took the picture, the lights turned green and we were unable to find out more for the riders. We believe these are the first images that have surfaced in public of the new units doing their public trial and testing and are a sign that things are progressing as per plan.


Picture from LTA showing the Gen 2 ERP OBU during their testing
One happy point of note would be that many riders had concerns that the new ERP OBU are significantly larger than the current units and would look unsightly or not in place on most motorcycles - But as we can see from the pictures, they do actually look decent and if the backlit screen can provide additional information such as traffic congestion, weather updates and so on, this might be a worthy trade-off from the current smaller sized units.
What do you think of the new ERP OBUs? We reckon most riders would oppose it if they switched to distance-based charging but otherwise, this new device might just be useful for riders as we ply the roads everyday! Let us know your thoughts and comments in the comments section below!


Join us on Telegram for the latest news, happening, promos & offers for Singapore bikers! Please bear with us as we populate our new Telegram channel. Do click on the Telegram logo above to join or via https://t.me/sgbikesofficial