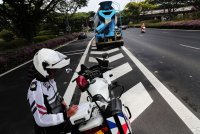 An article that has been posted on The Straits Times opinion pages just yesterday, where a reader has chimed in to comment that Singapore should update its speed limits on our expressways, to be more inline with other countries and our neighbours where the limits are usually at 110km/h, instead of the 90km/h that we currently have.

He argues that as cars get safer, more advance, are able to stop in shorter distances, and many of the other benefits that have come with technological advancements. He also believes that with a higher speed limit, this would enable our roads to be more productive and reduce travelling time.

Full excerpt from Mr Yeo Thye Lye below:
Quote

Finally, a main obstacle to the driving experience here is the speed limit. Currently, we have three different speed limits on our expressways - 70kmh, 80kmh and 90kmh.

I suggest that the Land Transport Authority raise the speed limit on expressways to 110kmh. This is similar to the expressway speed limit in many other countries, some of which have more vehicles that are older than those in Singapore, and roads that are not as well maintained as ours.

A higher speed limit would also increase the traffic flow, reduce travelling time and improve productivity.

Yeo Thye Lye
While there are some merits to his points, and we certainly feel that Singapore could do with a slightly higher speed limit, there are an opposing camp that prioritises "safety" over getting somewhere quicker.