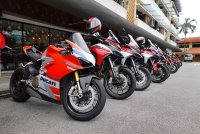 All pictures and write up courtesy of Ducati Singapore (Wearnes).
Last week, Ducati Singapore did a trial run of our ever-popular breakfast ride.
A short ride to stop by our local "Eiffel Tower" and to end off the morning with some proper breakfast at Baker and Cook @ Faber Drive.
Looks like the team at Ducati Singapore are ready for 2022 Breakfast Rides!
The ride was organised in compliance to Covid-19 regulations.