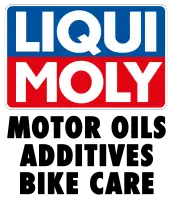 We here at SingaporeBikes.com (SBF) are extremely proud to announce that Liqui Moly has joined us as our title sponsor for the entire platform! SBF has always been supported by commercial vendors who help keep the website going so that we can bring the best motorcycling news, promotions, offers, and a platform whereby all bikers in Singapore can connect together through the various tools and sections within SBF.

Having a global brand like Liqui Moly onboard only further allows us to put out even better content and help keep SBF running for the over 5,000 users that visit SBF every single day.


Liqui Moly supports local motorcycle enthusiasts - Zen & Yanies!
Most, if not all riders would have come across the Liqui Moly brand at one point or another during their riding journey as it is the leading lubricant brand here in Singapore, and not just in the motorcycle market but the wider automotive market and other industries as well!



Liqui Moly partnering with SingaMoto SG for local track events
Liqui Moly has had a long-standing relationship with the markets and consumers that it operates in, and this is something rare among the big companies. Being on the ground, in touch with the entire value chain from the riders, to event organisers, workshops, and even prominent influencers within the industry have given them the opportunity to hear feedback and comments on their products, which they then bring back to their HQ in Germany to tweak and update their products to ensure that bringing the best performance that they can to their customers.


@61bronco's CBR decked out in Liqui Moly's livery
We've seen Liqui Moly support some of our closest friends within the industry such as Rahim from Ride Or Bust, the fantastic team from SingaMoto SG, and influencers such as @vaunephan and @61bronco. Their commitment to support local content producers and event organisers within the motorcycle space only goes to show how much their value their customers and are constantly investing to ensure that the motorcycle industry as a whole improves, grows, and gets better for everyone involved!


Ra from Ride Or Bust's ride - With Liqui Moly products of course for his Singapore to Scotland Tour 2022!
P.S. We've just received word that team Liqui Moly Singapore has also partnered up with YouTuber @Farhan Tre for 2021 as well! Check out their announcement video here:
Having Liqui Moly onboard as a sponsor also means that SBF will be able to organise frequent contests, giveaways, and you might just stand a chance to win some of their awesome products! We will also be sharing their latest product offerings, events, and special promotional items as and when they launch so you can be the first to get your hands on them!


LM's goodies up for grabs! Coming soon..
With over 500 workshops and locations available in Singapore where you can get Liqui Moly's products, and being a trusted name in the market with so many loyal customers, it is not hard to see why Liqui Moly has established itself as the #1 lubricant company within the motorcycle industry.

We'd like to thank Liqui Moly for coming onboard as our title sponsor, and we look forward to a long and fruitful partnership!
Please support the sponsors that support SBF!
Liqui Moly's Socials:
Website: https://www.liquimolyasia.com/
E-Shop (Singapore): https://www.storesingapore.liquimolyasia.com/
Facebook: https://www.facebook.com/liquimolysingapore/
Instagram: https://www.instagram.com/liquimolysingapore/
Store Locator: https://www.lmsvp.com/
About Liqui Moly:
Founded in 1957, Liqui Moly products are researched, developed and manufactured exclusively in Germany. The first product was an oil additive that contains the solid lubricant Molybdenum Disulfide (MoS2), protecting the motor against wear and tear. Today, after more than 60 years, this oil additive is still being produced. This additive gave the company its name – "Liqui" because it is a liquid additive, and "Moly" because of the Molybdenum Disulfide.
From humble beginnings as a small additive producer, Liqui Moly has grown substantially as a globally renowned one-stop brand with more than 4000 products for cars, motorbikes, commercial vehicles, bicycles, garden devices and industrial applications, as well as boats and aircrafts. All products are researched, developed, and manufactured exclusively in Germany. Liqui Moly has been raising the bar in terms of quality and service via continuous quality inspections from raw material deliveries, to production, right through to shipment.
As a global brand present in 150 countries worldwide, the expansion of its international brand awareness is the focus of Liqui Moly's various sponsorship activities. Liqui Moly traditional maintains a close connection to motorsports. Since 2015, Liqui Moly has been the exclusive lubricant supplier to Moto2 and Moto3 motorcycle racing series. Liqui Moly was a Formula 1 regional sponsor in 2019 and will be an official sponsor of the Formula 1 championship for 3 years starting from 2020 onwards. Besides motorsports, Liqui Moly is also engaged in sports sponsorship such as being the official sponsor of the Chicago Bulls in the National Basketball Association etc.
1