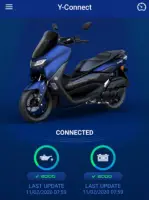 Yamaha Motorcycles are distributed by Yamaha's Singapore authorised distributor:

Hong Leong Corporation - Yamaha Motor Singapore
Address: 178 Paya Lebar Rd, Singapore 409030
Phone: 6749 0588

 WhatsApp to ENQUIRE now! Special price for SBF members! 

The Yamaha Motorcycle Connect app (also known as the "Y-Connect") has been around for quite awhile now, most noticeably on the latest Yamaha NMax 2020 V2. Our motor kakis in Europe and other regions have had access to this feature but unfortunately for us in Singapore, the app never became available on the app store.
But fret not, there is a way for you to install this app thanks to Ghazali Glenn on the Yamaha NMax Club in our forums. Read on below to find out more about the Yamaha Y-Connect app and how you can get it for your Yamaha bike in the link below!

A little more on what is the Yamaha Y-Connect can do and why you should install it the app on your phone:
Main functions
Smartphone information like received calls, e-mails or text messages and remaining battery level can be displayed on the multi-function meter unit (instrument panel).
Up to six different apps can be chosen and set for display. This feature also automatically adjusts the clock of the multi-function meter based on the time set on your smartphone.
*The indicators displayed on the multi-function meter may differ or the Y-Connect app may not be usable depending on the motorcycle model.
The smartphone screen becomes a "RevsDashboard" displaying data like degree of throttle opening, engine rpm, rate of acceleration, an eco-friendly riding indicator and more.
Based on a variety of data like your motorcycle total mileage, ride frequency and average engine rpm levels, the app estimates the condition of the engine oil and provides recommendations for engine oil change timing within the range described in the owner's manual. You can also change the recommendation timing by yourself.
The app also takes into account data of battery voltage to gauge the condition of the battery and keeps you up to date with the battery's condition, recommending if a check is needed.
The app tracks your average mileage and displays it either by day or by month for easy viewing.
Should your motorcycle detect a malfunction, you will receive a notification via the app. In addition you may designate a notice be sent that contains the location, time and other information to a designated third party, e.g., your Yamaha dealer, via e-mail.
You can see where you last parked your motorcycle, a helpful feature when trying to find your motorcycle in large parking lots or while at your touring destination.
You can share your mileage and ECO driving results with Yamaha users all over the world and enjoy them as a ranking.
App requirement:
CONFIRMED COMPATIBILITY WITH
Android 7, 8, 9 and 10
Bluetooth BLE4.1 and UP
 
If this is something you think would be a benefit for your daily ride, head over to the forum thread to find out how Singapore NMax owners can install this app:
What do you think of this "tech" that comes standard on the 2020 Yamaha NMax V2? We reckon Yamaha, Honda, and the big manufacturers should just go ahead and link up Apple CarPlay or Android Auto so we can have navigation and all the creatures comfort straight from the dash!
Let us know what you think is your favourite feature in the comments below!
Screenshot of the Yamaha Motorcycle Connect / Y-Connect App: