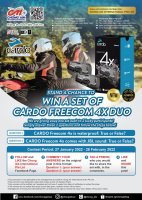 Chong Aik: Contest to win 2 sets of Cardo Freecom 4x Duo
The intercom system that provides all you ever wanted from a high-end motorcycle intercom is finally in stores - introducing the all-new
#CARDO
Freecom 4x Duo!


NOW AVAILABLE


Good things come in pairs, and for this lunar new year, we are giving away, not one, but 2 SETS OF CARDO FREECOM 4X DUO, one set each to 2 LUCKY PARTICIPANTS!
❖ Contest Period ❖
27 January 2022 - 28 February 2022
❖ Contest Details ❖
We are giving away one set each to 2 lucky participants! Simply answer these 2 questions and follow the steps below:
QUESTION 1: CARDO Freecom 4x is waterproof: True or False?
QUESTION 2: CARDO Freecom 4x comes with JBL sound: True or False?
Question 1: (your answer)
Question 2: (your answer)
Step 3: TAG A FRIEND, who you would like to share the set with, in the comments.
Step 4: LIKE and SHARE
this
post!


Try the CARDO Freecom 4x with us, the SOLE AUTHORISED DISTRIBUTOR at:
Helmets & Apparels Showroom

45 Desker Road, Singapore 209576

+65 6294 2532/1

9am-6pm | Mon-Fri

9am-5pm | Sat
Powerstar Motor P/L

151 Jalan Besar, Singapore 208869

+65 6392 5803

10:50am-7:30pm | Mon-Sun
1