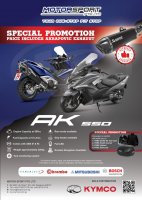 Kymco's exclusive distributor in Singapore - Motorsport Pte Ltd is here with an awesome offer for their class-leading Class 2 scooter, the Kymco AK550. For a very limited time only (until end of June 2021), for every Kymco AK550 purchased, you will get a FREE Akrapovic (LTA-approved) exhaust for the AK550 as well as many other goodies!
See below for more details!

The Kymco AK550 comes with:

ABS system made by 𝐁𝐎𝐒𝐂𝐇 (German Engineering)

Japan-made belting from 𝐌𝐢𝐭𝐬𝐮𝐛𝐨𝐬𝐡𝐢

All parts made and assembled directly at KYMCO Factory (Taiwan)

𝐒𝐲𝐧𝐞𝐫𝐣𝐞𝐜𝐭 EFI System

Front 𝐁𝐫𝐞𝐦𝐛𝐨 Disk Brake

𝐃𝐮𝐚𝐥 Power Mode (Rain mode)

Grip 𝐇𝐞𝐚𝐭𝐞𝐫

𝐍𝐨𝐨𝐝𝐨𝐞 Navigation Dashboard
More details and pictures available @ http://kymco.com.sg/ak-550/
Add-ons with purchase:

3 free engine oil servicing

1 year of unlimited mileage warranty

SHAD Carrier and Box

Helmet

Raincoat

𝐀𝐊𝐑𝐀𝐏𝐎𝐕𝐈𝐂 𝐄𝐱𝐡𝐚𝐮𝐬𝐭

Limited stock available!
MOTOR SPORT PTE LTD (SHOWROOM)

𝗪𝗲𝗯𝘀𝗶𝘁𝗲: http://kymco.com.sg/promotions/

Location: Blk 3006, Ubi Road 1, #01-350, Singapore 408700

𝐇𝐨𝐭𝐥𝐢𝐧𝐞: 6281 9778
MOTOR SPORT PTE LTD (WORKSHOP)

Location: Blk 3007 Ubi Road 1, #01-446 Singapore 408701

𝐇𝐨𝐭𝐥𝐢𝐧𝐞: 6749 6717/8