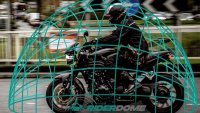 Singapore's Rider Dome Tackles the Challenge of Safety for Two-Wheelers
From the lens of driver safety, with connected car technologies and advanced telematics becoming fairly mainstream, it's safe to say that four-wheelers are well covered. But what about two-wheelers? Two-wheelers happen to be some of the most used forms of mobility in certain parts of the world, both from a passenger as well as commercial standpoint. That's where Singapore-based Rider Dome comes in.
Speaking to Auto Futures, Kineret Karin, Rider Dome's Co-founder and COO, said that it all started when her fellow Co-founder and CEO, Yoav Elgrichi met with a motorcycle accident.
"Yoav and I have been business partners for many years and have worked together on other startups in the past. He rides a motorcycle, and around the time when the pandemic struck, he had an accident. We had time on our hands and started to look for safety systems specifically for motorcycles, much like the ones that you have in cars today. While we looked really hard, we couldn't find anything that you could buy off the shelves and use," she says.
"The other thing that happened," she continues, "was that the pandemic led to this whole seismic shift in consumer behaviour, where predominantly everything was being ordered online. This meant that there was a greater reliance on delivery fleets now more than ever. While we had already understood that there wasn't really any safety system available for motorcycle riders, from a commercial standpoint, fleet managers have no visibility of the challenges on their riders' safety and routes."
This happens to be a major challenge, especially in a continent like Asia, where a lot of the last-mile logistic reliance happens to be on motorcycle riders. Fleet managers lack the data to give them a clear picture of the motorcycle riders' driving habits and patterns, as well as potentially dangerous routes and hazardous road conditions. Without this perspective, many of the riders either go in blind into potentially dangerous parts of certain cities or rely on their past experiences to get them through this.
"Once the idea was concrete, we brought on board our CTO, who is an established name in the Computer Vision domain with extensive background in the space. We then developed an Advanced Rider Assistance System (ARAS) based on Vision AI, that gives on one hand to the riders alerts against critical threats on the road and to the fleet managers, we developed a SaaS platform that aggregates mass data and gives full visibility on all the safety aspects of the fleet," explains Karin.

Making Fleets Safer
Cars and motorcycles behave very differently on the roads. Unlike cars, motorcycles tend to tilt, manoeuvre and drive in-between cars. Second, cars tend to have a lot more real estate - a big dashboard, a wider body, a roof. Motorcycles, on the other hand, are small and narrow. There are also cost constraints associated with motorcycles, whereas car technology is comparatively much more expensive.
All alerts are displayed on the Rider Dome 'Rider Alert Unit' (RAU), which is mounted on the motorcycle mirrors stem. Red lights indicate hazards from the front (collision and safe distance alerts), while orange lights indicate hazards from the rear (blindspot). Rider Dome's fleet safety platform is an online SaaS platform that aggregates and monitors all safety events from the fleet's motorcycles, in real-time.The platform can be accessed from any web browser and does not require installation of any additional software.
Speaking about the alerts, Karin says: "At this point, we tackle about four major alerts that account for 80% of motorcycle accidents. These alerts account for most of the accidents that occur, especially the blind spot alert."
That's not all. All the data that is gathered from the motorcycles is centralised into a dashboard experience, which Rider Dome calls its 'Fleet Safety Platform'. This platform monitors each and every safety event in the fleet. The mass data that Rider Dome collects can then be consumed by companies that want to monitor their fleets, insurance companies, regulators, municipalities and the likes.
Explaining what the fleet manager can see, Karin adds: "Our algorithm makes it possible for every rider to get a score based on their driving patterns. This means that the fleet manager gets a clear picture of who is driving safely and who is over-speeding based on the type of and number of alerts a rider gets in a particular time frame."
Rider Dome has its focus set on the B2B vertical, because, as Karin points out, B2C, "has much a longer growth journey, whereas B2B is much faster."
The company's offering is vertically agnostic. Just about any company that has a fleet to manage can use Rider Dome's solution to its advantage. And this clearly shows in the range of companies that it's partnering with - from food delivery companies to a government postal service even.
Rider Dome is currently running a pilot with food delivery giant Deliveroo in Singapore.
When asked about what the key learnings from this pilot were, Karin says: "From pretty early on, it became evident that when you use the Rider Dome's system, you see a significant decrease in the number of alerts and the overall safety of the fleet goes up. It's a safer environment for the fleet when you use the system. And this is something that we're seeing through all our pilots. Once they get used to the system, the number of alerts takes a significant plunge.
"Riders are very happy with the system. It keeps you safe. It's just like driving a car. If you don't hear the beeps, you feel like something is missing. It makes you feel safe. That's just what Rider Dome does. We have a protection dome for the riders, so once you begin to use the system, you can't really drive without it because it makes you feel safe. Fleet managers are also happy. They see the riders driving more safely and responsibly, and that is just what they want. Eventually, the fleet drives safely, there are lesser accidents, which means that there is lesser downtime and lesser money lost. It's a tangible benefit for both riders and their fleet owners."
According to Karin, Rider Dome has ambitious plans for the future. She tells us: "We started off with angel investment from some friends and family, but now we're looking to raise money for our first round. We intend to use the funding to grow the company, acquire more customers, build strategic partnerships and grow the staff. Geographically, Singapore has been great for us, as we've been able to test things in Singapore. But realistically, it is quite a small market, and we see ourselves expanding into the rest of Asia, US and Europe moving forward. That said, we're open to opportunities from just about anywhere."

More Partnerships in the Pipeline
Rider Dome also recently partnered with Giken Mobility, the exclusive global licensee and manufacturer of the Italian heritage motorcycle brand, Iso, owned by the family of Ferruccio Lamborghini, to feature Rider Dome's Advanced AI-based Rider Assistance technology in Iso's upcoming electric motorcycle.
"This partnership is a start for Rider Dome," says Karin, "as it's the first time an OEM will embed a motorcycle safety solution in its production line, and we have a few more OEMs lined up that we cannot disclose at this point of time."
Deliveroo, Singapore Post and Giken mobility aside, Rider Dome has some exciting partnerships that will be publicly shared very soon and many more planned in the pipeline.
Article Credits: autofutures